At the Beatrice, Ne. train show last year (next one comes up next month, I'm so excited!) I acquired a bunch of broken and/or unserviceable rolling stock for $5. One of the items in the box was this car. I wanted a subject to use to test out the new airbrush compressor I recently got, so I painted this boxcar red. And that's where I made my mistake!
It looked so good, I just had to decal it and get it suitable for the layout!
I bought a set of MicroScale decals for UP boxcars, set #87-494. I really like the look of these external braced cars, but they are a challenge to decal! The decals on the sides of the car have to be cut into pieces in order to fit between the braces. So far, I have only done the road name on one side of the car, but I think it came out fairly well. It isn't absolutely ruler perfect, but it passed the 5 foot test: If it looks good from 5 foot away, it's good enough!
After giving the car a coat of clear gloss and letting it cure, I started fitting the decals. It quickly became apparent that the best thing to do was to put the "I"'s in the small space between two braces, and the rest of the road name to both sides.
A generous portion of MicroSet proved invaluable in getting the decals into place. I think they came out OK.
The "ON" looks like it could come up just a hair, but I have learned to know when to call it good enough! Below the second vertical brace on the left side of the car you can see a discolored spot. That is one of 6 spots where some genius glued the car body to the frame!
I got the body off and added 1-1/2 ozs of weight to the car to bring it up to NMRA standards. I do not know who made this car, there are no markings on it or the frame. I can find lots of cars with external bracing, but very few have 4 diagonals, most have only 2 or 3. The ones that did have 4 diagonals don't match other details. Oh, well.
I did find a pic of the 'prototype'. This car was built in 1913. Sadly, it had deteriorated so much that in 2017 the decision was made to move it from display and sell it for whatever could be gotten for it.
https://www.dailybreeze.com/2017/01/19/lomita-looks-to-push-railroad-rusted-boxcar-out-of-town/
The pic came from here:
http://www.lomita-rr.org/exhibits/?exhibit=boxcar#boxcar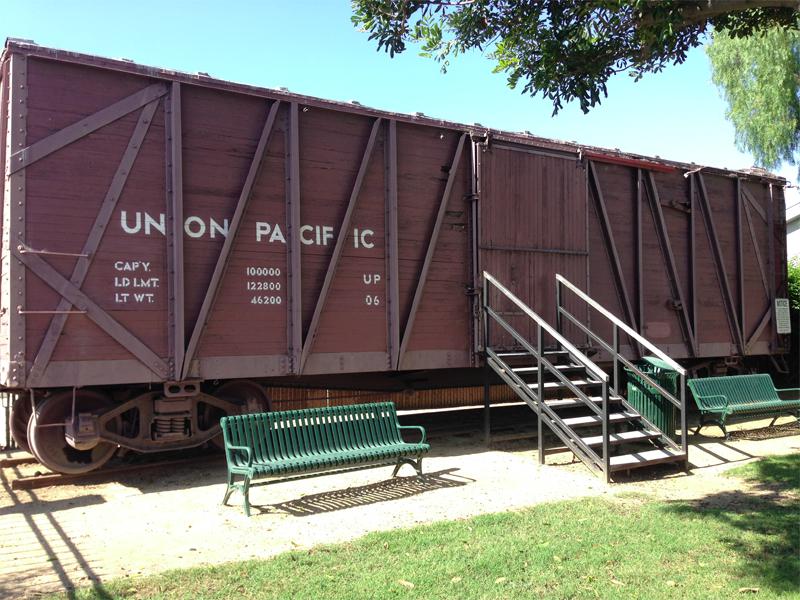 The lettering on this one is white, the model will have yellow lettering. This car has 3 diagonals, the model has 4. But it's close enough.
Ever notice how a simple project tends to grow?