I went to the train show in Beatrice, Nebraska this morning. It was an OK show, maybe 5 on a scale of 1-10. They need more parking.
I was looking for a small Vanderbilt tender, plus a tender suitable to use behind my UP rotary plow (the tender supplied fuel for the plow's diesel engine, which turned the plow blade. The plow itself was pushed ahead of a locomotive.) I didn't find either of those. Oh, well. Only 4-1/2 months until the train show here in Lincoln, which is much larger than the Beatrice event is. Maybe then..........
I did find a seller getting rid of some of his club's unneeded and unwanted items. The following pics are what I bought, all in the same cardboard box, for $10.
From left to right are a small loading platform. The long platform can service a boxcar, while the short platform on the left side can service a truck.
Next is a signal tower, which is lighted, but I have no plans to have it lighted on my layout. I think this will go in the yard.
A tower which looks like it had a floodlight on it at one time.
Another lighted signal tower. The roof has no provision for the heat of the bulb to escape, and it messed up the plastic. See next pic.
A brick building with a boxcar port. I'll do some work on this one and find a spot for it. I like it.
A 1950's style diner. This will definitely get used!
This pic shows some of the heat damage caused by the light bulb. The windows are warped, and the roof is askew. If you are going to use incandescent bulbs in your buildings, keep them away from the walls and always make a way for the heat to escape!
A cardstock house. The roof looks kind of sad, doesn't it?
A plastic house, again with a light bulb in it. Needs some work.
A lumber company. The decal on the front is gone, and the one on the rear is not far from going! Needs some lumber. I can use this in the town.
A plastic barn which is also the community playhouse (for
theatrical
plays! )
A cardstock barn. This one needs a bit glue in a few spots.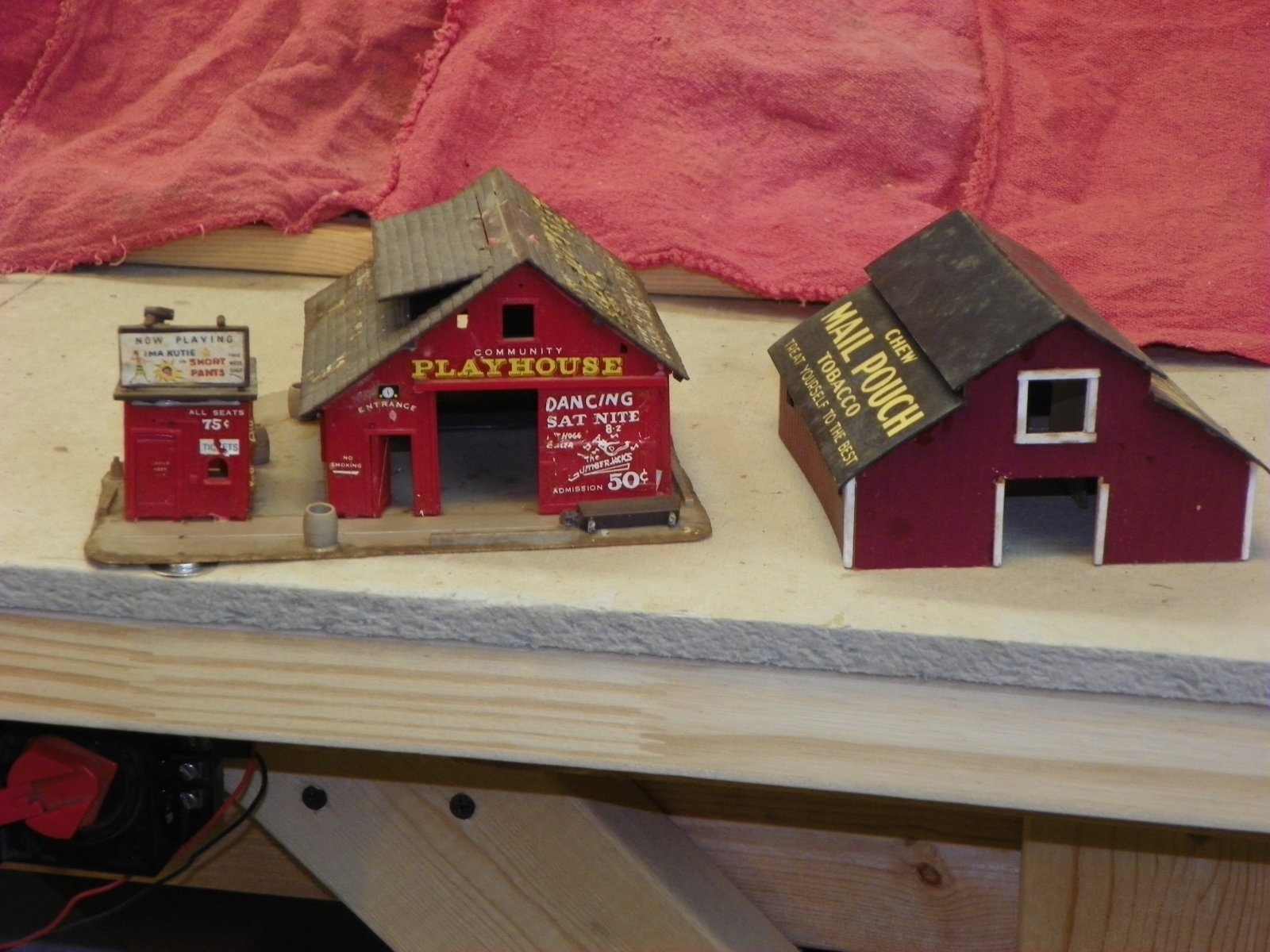 I like the playhouse barn. It's plastered with advertising, a lot of which is in pretty poor shape. I seriously doubt this building was clear-coated after being decaled.
Included in the box were a package of 12 track bumpers (the style made from old rail), a couple of bridge pieces, and a Bachmann gandydancer car. This has never been opened, and I doubt that conversion to DCC is practical or possible, so I may or may not even use this. We'll see.
The next box of treasures will be covered in the next post.