Necessity, they say, is the mother of invention. I needed to remove a bunch of track nails from a section where the tracks were nailed directly into plywood. The nails were all hammed tightly onto the ties. I tried gripping the nail heads with pliers, but they were too far down to get a good grip. I tried prying up on the plastic ties with a flat head screwdriver, but that only ended up breaking ties. I even tried grinding the nail heads off, but that dug too far into the ties which still broke as it didn't remove enough of the nail head to pull cleanly through the ties.
I realized I just needed something to get under the ties right where the nail was to pull it up just enough to where I could get a purchase with a pair of pliers. As I looked around at my tools, I found the exact tool I needed: A simple paint can opener!
As it sat, the tip was a bit too thick to slid up under the nailed down ties, but after a quick visit to the grinder, I had a nice, sharp edge:
This allowed me to get just under the tie right next to the nail and gave me the leverage to pull up the tie and nail about 1-2 mm.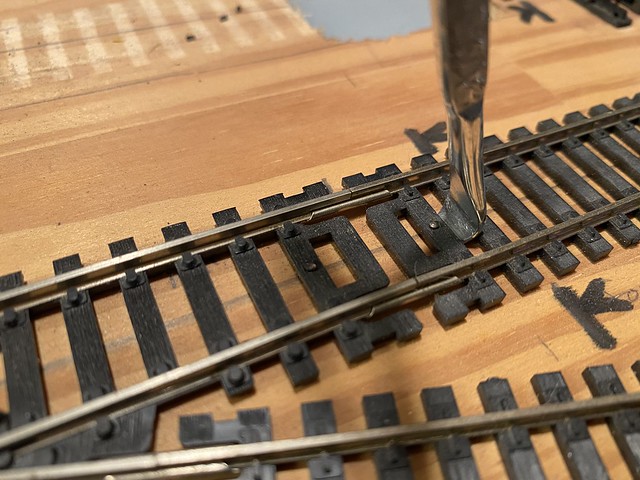 With the nails up just a little bit, they were easily pulled out with pliers. The section I was working on had 3 main tracks and 7 turnouts and a nail at just about every possible location. Using this new little too, about 90% of the nails I pulled out were even straight enough to be re-used!!
Figured I would share this little tool tip here if anyone else could find it useful.