Hey folks,
This is a subject I keep seeing pop up on social media, and we kind of touched on it here in a very exciting thread from a guy named Hal.
I'm not here to tell anyone how to do anything. I'm not here to criticize how you're cleaning your track. I'm here to provide MRH's summary and associated study for you to make up your own mind.
For reference, I started "serious" with a club that only dry cleaned track, and our president would not allow any alternative to this. A year after, just as this article was produced, I joined a second club which embraced the results shown here with enthusiasm, and our results were excellent performance. Twice-monthly cleaning with mineral spirits kept us going, until a new tenant moved into the space above us. Due to dust disturbed by the new tenant moving in we have had to switch to using the Wahl clipper oil method, combined with twice-yearly "deep cleans" with CMX tanker cars, CMX roller cars, both soaking and scrubbing our track with mineral spirits. Our results have been extremely good.
Now, as for the dry-cleaning only club, the president who stonewalled any options is now gone. I have been low-key applying the same wet cleaning I learned at the second club to the dry-only club, and our layout is running better than ever.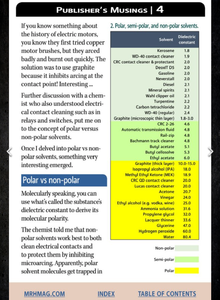 Remember, science is your friend!