So a while back I was going to start a new layout but never really got the time. Well, I was tinkering around with some new ideas the last couple days and I think I may want to change it up a bit. Here is what I have so far:
This is my old layout. It is currently in the middle of my basement which takes up too much room and kind of blocks the gas meter.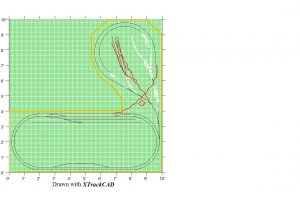 My plan is to re-position the old layout and rebuild the track plan. I'll drop the height by three inches so it will fit under the electric panel (in the upper left corner on the left hand wall.) My goal is to add some operational interest and a longer mainline run. This is what I was looking at so far. The track in the back and coming from the upper center to the lower right will be elevated, coming down to no elevation at the turnout at the bottom. This won't be a tunnel; I will be putting in a nice bridge that spans the turnout and the mainline. How should I proceed? It still feels pretty empty at this point. I want a couple industries. I still haven't given up on coal, lumber, and since I'm doing transition era, maybe a fueling station / water tower type area? A small engine yard would be nice but isn't necessary. I have a freight depot already and I would like to incorporate it as well (the building in the upper left is the freight depot at this point.) 1 - 2 switchers and a mainline train, occasionally run passenger stuff just to run it (they can handle the curves, I've checked.) Thoughts?