I've done a ton of locomotive and passenger car projects this year. I don't know about you but after a while I start to get burnt out on things, so one of two things usually happens. Either a sabbatical, where I just take a break from the hobby for what can be several months while I do other things, or I shift gears and do something different in the hobby. I'm currently in the process of shifting over to my "building structures" mode. This can take a couple of weeks for me because there's a lot of mental preparation to get out of one frame of mind and into the other, at least for me. Your mileage may vary. About three years ago I was building Sierra West Scale Models' O'Neills Fabrication. If you're interested in what the kit looks like, see it here:
https://www.sierrawestscalemodels.com/211.html
This company's kits are probably the best out there. Each one builds a diorama, and takes a couple of months to complete. I got a couple of weeks into the project, and ended up changing jobs to one that required extensive travel, on the order of 75% of the time. Life can be funny that way. The pay's great but not much modeling time, so everything went into the box and the project got put on hold. Now with Covid changing the way we do business I find myself home most of the time, and this kit has been calling my name. I dragged it out, blew the dust off the box, and started looking at what had been done, and remembering where I was in the process. That can take time. I also started scouring YouTube for kit building videos, and Sierra West's site has an excellent clinic and video section, as well as their own forum. It helps to see what others are doing and how they do it. The kit's manual also has an excellent section on what you'll need, and what they recommend. I picked up a few new items from a place I hadn't tried before: Rio Grande Jeweler's Supply. They are worth checking out.
www.riogrande.com
, and go to the "Tools & Equipment" tab.
Files are important no matter what material you work in. I have a set of them I liberated when I was in the Navy that we used to smooth out compressor blades in jet engines. After 40 years they are beginning to wear out, so I picked up two sets. The first one is this set by Dick. The handles are nice and you get a good feel for how much pressure you are applying.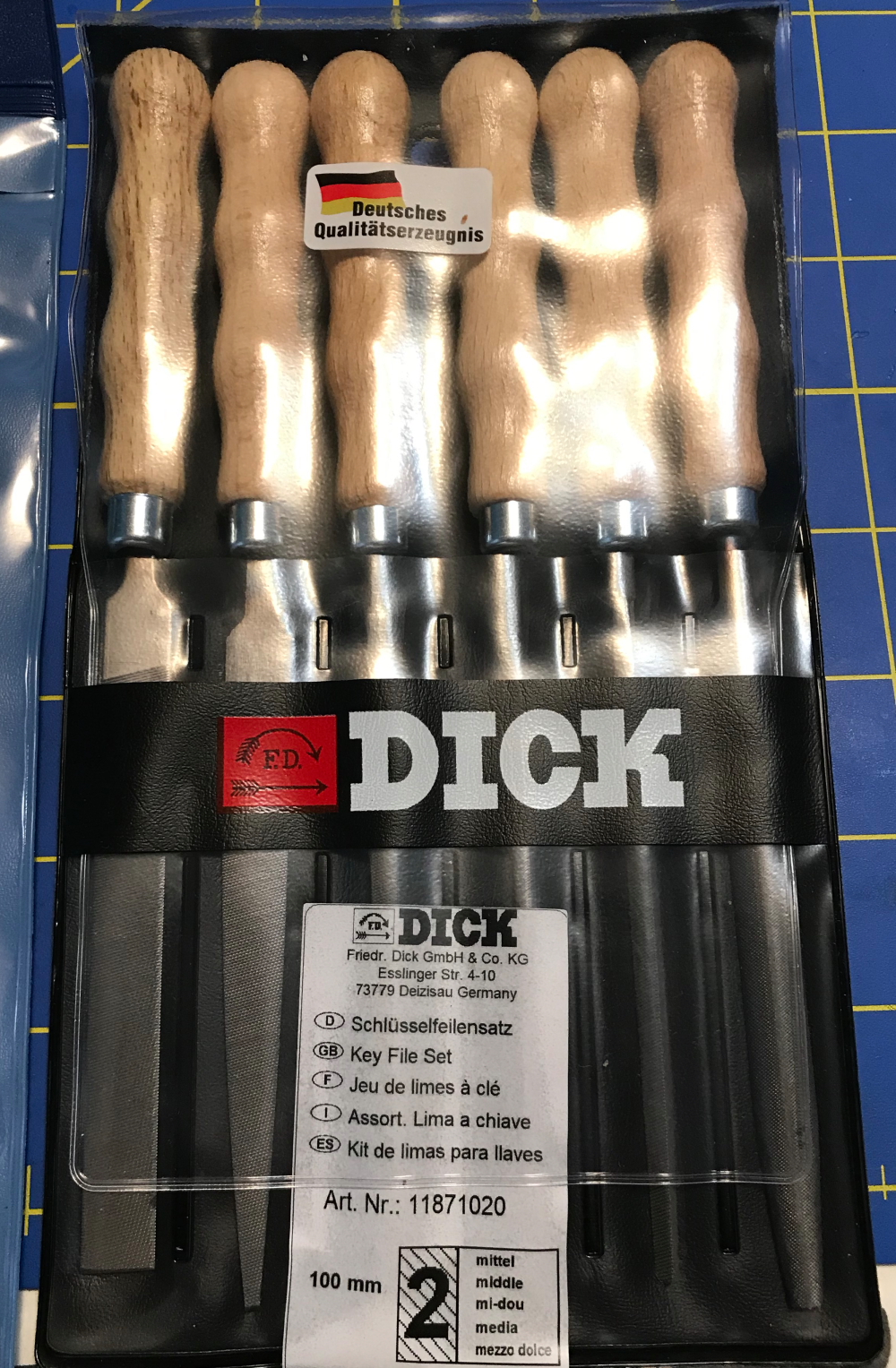 I also needed a set of riffler files for hard to reach areas:
Tweezers are really important. The tool guy at the train show always has dozens of types, all cheapies. I use these, especially in applications where they'll eventually be ruined by chemicals, but I needed a really good pair. This pair is Swiss made and used for handling small diamonds. You wouldn't want those flying off to who knows where, so they have a good grip and are fine enough to pick up a single strand of cat hair:
I picked up some nice 1-2-3 blocks from Amazon and saved about 7 bucks a pair over Micro Mark's price. These are great for keeping wall Joints square and heavy enough to hold roof panels in place while glue dries. They came triple wrapped, and I haven't wiped the oil off of them yet. They can be bolted together if you need
Last up, an unexpected goodie. I found a drill press pin vise at the LHS. This one is by Mascot Tools. It'll hold bits down to #80. I have a jeweler's drill press. Years ago I tried a Dremel in their drill press vise, but Dremel tools are just too fast for most work you'd do with a drill press. I had too many casualties with bits, and in some cases with projects. It comes with two collets
Last edited: