Despite spending hours yesterday trying to get this upper level NOT be so linear, while also desperately trying to make a bridge work in this area, I ended up with this. Oh well. The red square on the left and the red circle on the right are where the lower track will enter/exit via tunnel portals. Once terrain and so forth gets put on, I'll keep an area or two removable so that if there happens to be in an issue in the tunnel, the emergency services can get to it.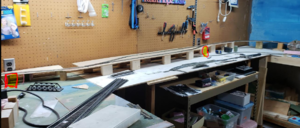 Truth be told, I will probably continue to work on a way to make use of the bridge-maybe by cutting the 'earth' out from under the front track. Anyway, in this other picture I drew a viaduct under the track as it crosses over the water. The final design will probably not be fuchsia, but, you never know.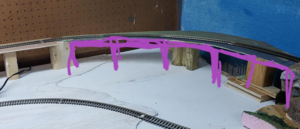 Overall, this has been quite an undertaking for me....and I've had some visions of what I wanted areas to look like, that probably won't look like them as this unfolds. That's okay too, because I'll probably like what I end up with regardless.