My friend bought a bunch of older cars from a fellow (in his 80s I think) and there were 3 stock cars built from some type of wood kits. I'm guessing Labelle or Redball maybe.
The construction looks like it was from the 1960s. They were all lettered for the Sierra Ry. They were good looking cars and needed repair work so I added some details and repainted them for the Sacramento Northern just for fun. The couplers have been changed to whisker couplers with offset heads to get the height right. The roof walks are three separate boards instead of one scribed piece and mounting cleats were redone to get the height off the roof smaller. End platforms over the ladders were added with the L shaped grabirons.
Two are finished. The third is still in the shop with more extensive work to fix a cracked floor and missing ladders, a door and other parts. I have about three full evenings into the cars so far. Very good entertainment and all the decals and other parts came from my accumulation of modeling junk.
These wonderful cars came with full AB brake rigging and sliding doors. So reviving them was a pleasure and maybe they will last another few decades now.
The arch-bar trucks will mean I have to keep them on "home rails" since I model 1956 - long past their being outlawed for interchange traffic.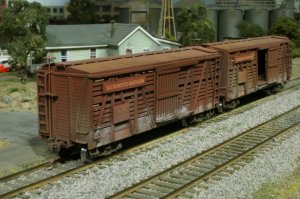 Last edited by a moderator: