Those of you who have been following my thread on the N&W Abingdon Branch know that I have demolished that layout and started a new one. I won't go into all of the reasons here but if you're interested you can read it on that thread.
The new layout will depict the Southern Pacific Coast Line that ran from Los Angeles to San Francisco. Now, since I don't live in an abandoned warehouse or a former bomber factory I obviously can't model the entire 380 some miles of railroad. (For those among us who are math challenged, that would require almost 4-1/2 actual miles of HO gauge track!) So I have to do what every model railroader does and selectively compress the line down to a manageable size.
Sadly, this means that I don't have room for any of the scenic 140 miles that the railroad ran right next to the Pacific Ocean. Nor do I have room for the Cuesta grade west of San Luis Obispo that challenged the power of the SP's best locomotives to pull long trains up the hill.
No, the available space severely limits me down to just the important crew change point of the scenic San Luis Obispo area and Watsonville Junction. (And even those are heavily truncated) The goal is to model the heavy reefer traffic preparing to carry California's abundant produce to the East Coast.
The benchwork is done, track has been laid (most of it anyway) and trains are running but there is a lot more to do. So follow along as I show you al some photos of the progress so far. As always, comments are welcome.
But first one last look at the old layout. Goodbye old friend.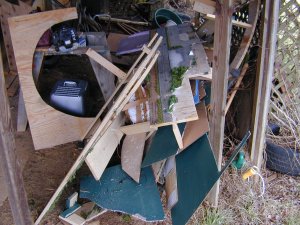 Here are the bones of the old and the staging yard in the background. These are all that will be retained.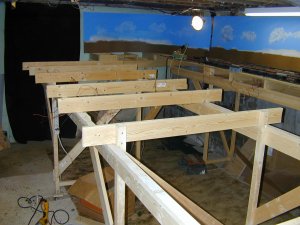 The new top and the beginnings of the cork roadbed. Yes it's all flat. While San Luis Obispo should be higher than the staging yard and Watsonville Junction, there really isn't enough track length to make reasonable grades so it will all be flat.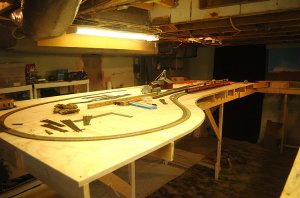 Last edited by a moderator: