I was completely blindsided last week. I went to my Dr. for my semi annual blood work on Tues., and while there I told him about a tightness in my throat upon exertion that started getting worse recently. He talked me into a stress test on Weds., which I flunked. Then that led to a heart cath with the possibility of 1 stent insertion on Thurs. But I flunked that also. Then Friday I had to go to the hospital by 5:15am to report for 5 bypass heart operation. Fortunately, I passed that.
The day of the surgery, I amazed everyone by walking the long route in the halls 2 times as a show of my remaining strength and endurance. My progress was rapid and I was scheduled for release yesterday, but my one chest tube was still draining too much. But today the drainage reduced to almost nothing and I was released a little before noon.
I don't really have much pain at all, just sensitivity where they cracked open my chest. I'm still rather tired and I have all kinds of restrictions, but the main thing is I made it and my wife doesn't have schedule a funeral.
I have a few pics while I was in the hospital, and if anyone would like to see what a bypass scar looks like, I'll post one or two.
I won't preach healthcare to you, but just let you know that the anticipation is far worse than the operation.
Added: This picture was the morning after the surgery. It took them almost an hour to shave my chest, belly, legs, and groin areas. They are now starting to itch. Let the fun begin.
Joe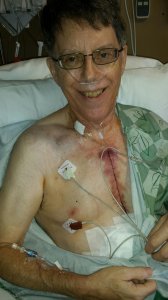 Last edited by a moderator: