I originally built this from a model magazine article back in the late 70s as I recall.
It's a likeness of a post WW-One era BX3 and/or BX6 boxcar that was peculiar to the Santa Fe. I rebuilt it this week it -- to look more like the 1930s Santa Fe upgrade with improved doors and AB brakes replacing the K brakes. It has a fresh paint job too.
I like the segmented outside sheathing on this type car, and while I model the SP, SN and WP, I had to include one of these.
It is parked here at the Oakland, CA Westinghouse plant's dock. It may have brought electrical parts from one of the many companies that (once) made Chicago a powerhouse of electronic and electrical parts supply. All on Santa Fe rails into Emeryville back in this 1956 model scene.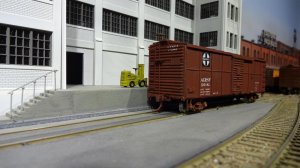 Last edited by a moderator: