Call came into the Village of Defar Police Dispatch at 15:50 for an accident at the bridge over the Kickapoo River.
Units set to arrive on scene from the James St. Station -
Defar Engine 12
Defar Rescue 1
Defar Medic 1
Dispatched out at 15:18
That is the job - this is the result --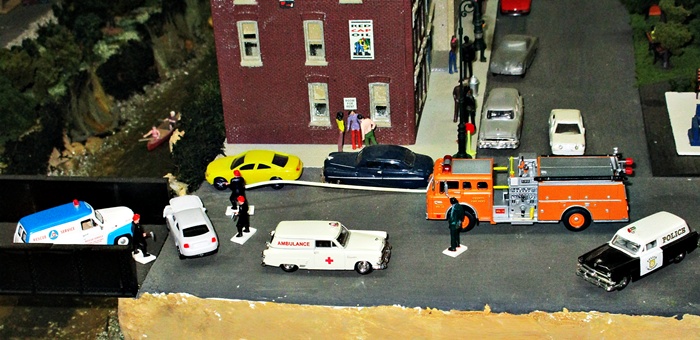 Okay, here we brought all the previous posts together on one page. Showing how I solved all the problems.
First, this is a working test shot, so it is not complete, work need to be done a things like the bases and some others.
The hose ended up being a piece of 20 gauge wire with the wire gone. I cut a hunk of it, pulled out the wire and then used to for the hose. how does that look?
A few other notes - the rescue unit is still in "CD" civil defense dressage. A lot of these units were given to the rural fire departments in the early 60's to bolster their fleets and provide more equipment on the scene. A lot were left in their original paint until retired. (my thanks to Chief Johnson Sussex Fire)
Some fire departments ended up having to run an ambulance service if there was no funeral home or hospital nearby to provide this service. Here we see a typical early 60's ambulance service being provided by the Village of Defar.
Note the car wreck - there is steam and smoke coming out from under the bent up hood. It is on fire and the guys have to put it out first before they can go to work with the come alongs and high jacks to get the person out of the car.
Your thoughts?
More coming as I get it done --
The Aerojet