I been watching a series of videos on several layouts and watching recorded ops sessions. In all the videos and different layouts the locomotives are run at a very slow speeds which I believe increases the realism of the locomotive moving rolling to different locations. Also, not once did I see a locomotive stall or hesitate on the layouts.
I personally run my trains at a slow pace on my modest sized layout to make the layout seem larger than it actually is and increase the time it takes a train to cover the mainline. Switching is also done at slow speeds to copy that of a prototypical switcher working the yard. What was missing was the engineers using the locomotive's horn to broadcast starting forward, backing up or stopping, yet some did operate the bell.
I know of some operators who run their trains at warp speed and it sure takes the realism out of the action!
How do run your trains and switching locomotives?
Thanks.
Greg
#######################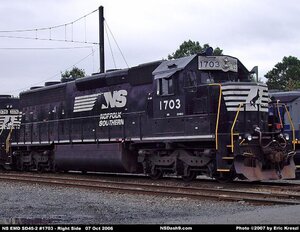 Photo by Eric Kreszl from the internet.
Last edited: