The O-scale forum seems
way
too quiet, so here goes...
If you model 2-rail, take a look at the F unit kits that P&D Hobby Shop has on fire sale. They are great kits (I've built 3 and have 4 more to go) and they provided me a much-needed reintroduction to the hobby after 30 years of absence.
Photo taken on David Stewart's Appalachian & Ohio
I opted to get the single tower drives (still all wheels powered) to leave room for an optional detailed cab kit. These locomotives sport fully-sprung and highly-detailed lost wax brass trucks that Atlas apparently did not want when P&D sold the tooling.
With DCC control and an NCE 408 decoder, there are lots of function outputs for special effects, such as overhead cab reading lights.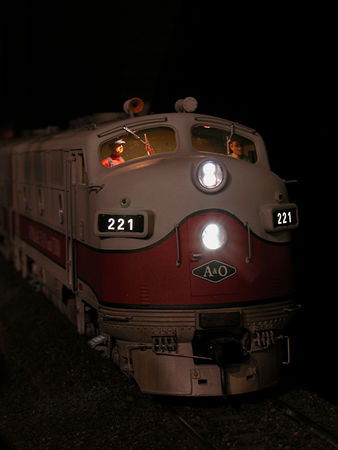 Submitted for your approval. Frank and Jim's F3 just exited the tunnel that they run through every day without incident. But today is different. Today they came out into a place that is dark and devoid of scenery. Turning on overhead lights, they frantically search the employee timetable to see where they are. But this station is not in their employee timetable. They just arrived at... the Test Track Zone. (cue sound do-de-do-do...)
A chip LED will just fit inside the hollow back of the lost wax speed recorder, which is part of the optional cab kit.
Chip LED installed in the speed recorder and backfilled with ACC.
There is plenty of room to add gage lighting. Opening up holes in the etched "dashboard" is quick and easy by applying a sanding drum in a Dremel to the back of the part. During assembly, a thin sheet of frosted plastic film acts as a diffuser. This too is part of the optional cab kit, and it only fits if you get a single instead of double tower drive.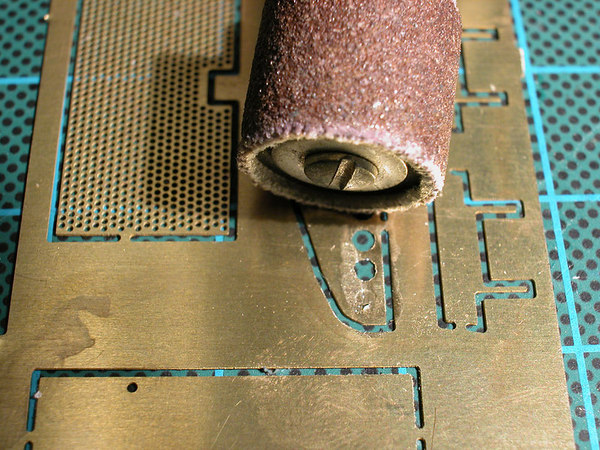 Opening up the "dashboard" for lighting.
Here is a peek at the completed cab.
If there is interest, I can post more construction details, although probably will be a few weeks before I'll have time to respond.
Yes? No? Maybe? Your call.