Greetings everyone! My name is Bunker! After years and years of being away from Model Railroading, I am making an all too overdue return to this wonderful community, and hobby as a whole. Please let me introduce myself.
The year was 2006, and I was a young teen discovering his place in the world. I had always had a passion for trains and miniatures, and with the relatively new concept of having my own money of which I could spend at my leisure, I began to delve into model railroading. With a very poorly built N-Scale layout only 3 feet by 4 feet in size, I came on the online forum scene, back in the days of ScaleRailsOnline.com under the screen name of Redwall (It was my favorite book series at the time, don't @ me XD). As alluded to earlier, I wasn't that good at building layouts, or painting, but with the help of the community, I learned as I went and began to hone the craft. I found a niche scratchbuilding structures out of polystyrene, and ended up creating some very nice models over the few years I was active, many of which I still own. On the actual locomotives and rolling stock side of things, I had mostly second and third hand models that had seen better days. I did manage to buy one or two new models, but with my neighborhood lawn cutting income, I couldn't afford the nice stuff.
Then...Life happened. My interests began to shift to buying a car, going out with friends, etc. My model trains got sidelined more and more, plus the location I had them kept was in the back corner of an unfinished basement over the home's sump pump that was beginning to become more and more trouble-prone. One day, during a particularly bad rain storm, the pump gave out. Thankfully the basement didn't flood enough to destroy anything, but my train layout posed as an obstacle that made accessing the well difficult. My parents were not happy, and though not my fault, they made me get rid of my train layout so they could "Get their basement back." Again, I will remind you, it was a 3 foot by 4 foot layout, so putting it that way was not necessarily fair. Regardless, my interests had shifted enough to not put up too much of a fight. I got rid of the layout, and sold all of my trains. The majority of what I kept, ironically the stuff I'm most sentimental to nowadays, are the structures and scratch builds that I wasn't able to find a buyer for.
Since then, I have always looked back on those couple of years very passionately, and kept telling myself that one day I will get back into the hobby. I am 27 now and have a promising career, a small condo that I own, and am engaged to a wonderful partner that herself loves miniatures and trains. Last year, we began visiting hobby stores, and I once again began buying model trains, of course in N-Scale. I love all scales, but N is where my heart lies.
The year IS 2020. Corona Virus has given me waaay more free time than I know what to do with. After finishing a lot of sidelined projects around the house, and becoming more and more stir crazy (I'm the type that loves to always be tinkering on something), I set my sights on the trains I collected. One of which was a very sad Mini-Trix Fairbanks Morse 10-44 that I picked up for $5 at the local hobby store that was labeled "Broken-Parts Only. No return."
The poor thing was completely burnt out inside, and the body looked as though the previous owner tried to strip the old paint with acetone, as it looked partially dissolved and melted. Like a psycho, I managed to source and purchase a new motor for it online (for $15) and I took the entire chassis apart, down to every single gear and wire. I cleaned and rebuilt the whole system, rewired the headlamp, and installed the new motor. Lo and behold, the thing now runs beautifully! Now turning my sights to the bodywork, the locomotive reminded me of an engine that is owned by a railway museum near me. I live in the suburbs of Chicago and am extremely lucky to live by the largest railway museum in the United States, the Illinois Railway Museum. The locomotive I am referring to is Milwaukee Road #760, the first ever 10-44 manufactured by Fairbanks Morse, and was used as a demonstrator unit until sold to the Milwaukee Railroad. Conveniently, Milwaukee road is one of my favorite railroads, and a railroad I would love to model in a layout one day.
Since the model is of a later FM 10-44, after they removed the signature flairs the earlier models had such as the stylized back porch roof overhang, I had to dig deep into my brain and uncover my plastic modeling skills. Painstakingly, I added the features unique to earlier model 10-44s, and to #760 itself.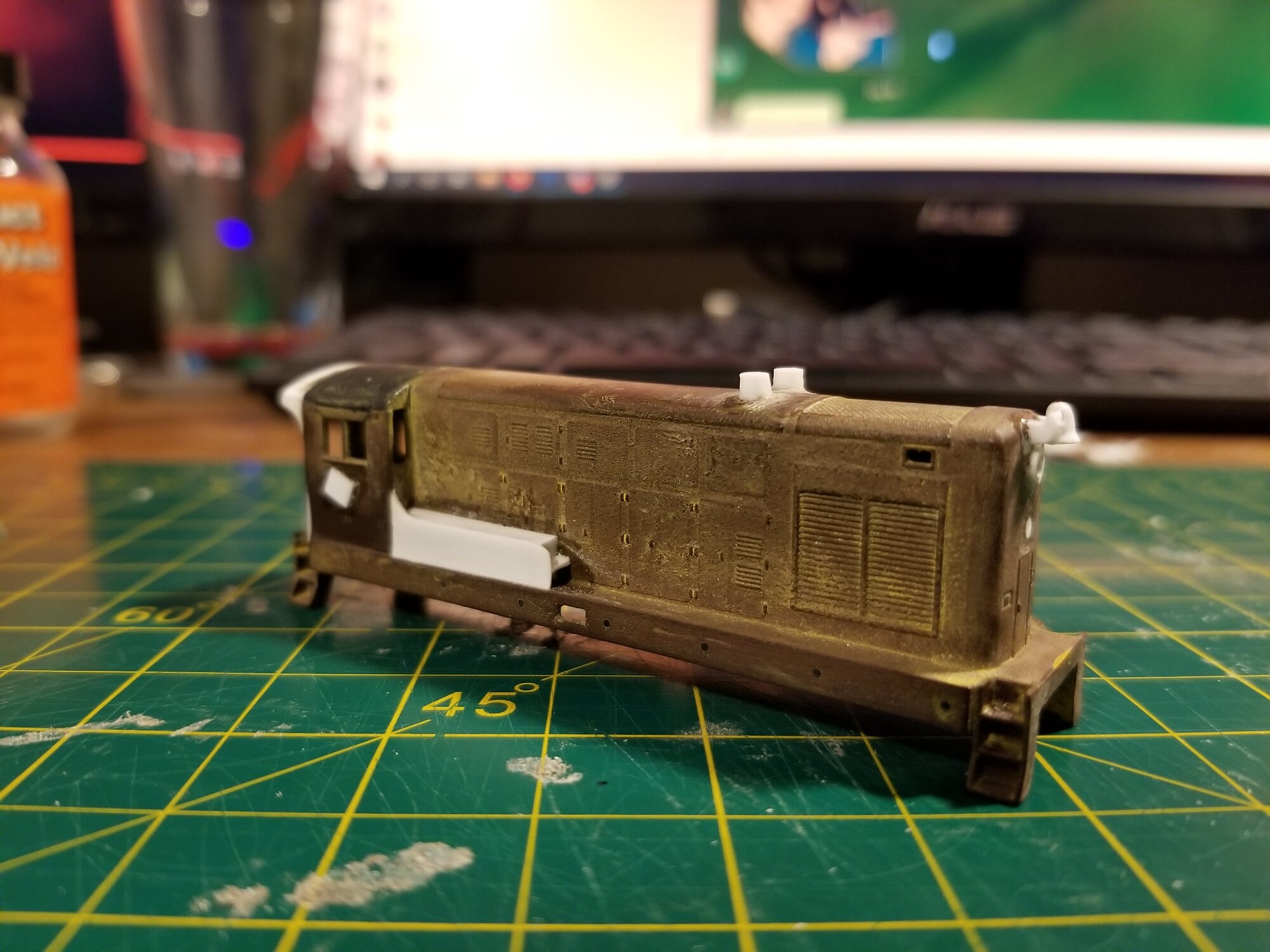 To finish it off, I took my painting knowledge, mostly from watching Matchbox restoration videos on YouTube (Shoutout to Marty's Matchbox Makeovers!)to finish the model off. Finally, after I would estimate 80 hours of work, here is my finished, fully running, Mini-Trix Milwaukee Road #760 FM 10-44:
So, in summary, this project has fully re-awoken my love for model railroading, and has proven to me just how much skill I have, both new found and from past experience, in making custom models. I want to join a community again that will allow me to share this passion with others, and to learn, or maybe even teach new skills! At this time, I don't have the space for a model train layout, but I will continue to build up my collection of locomotives and rolling stock, and work on other custom projects in the mean time. I am so excited to meet everyone here, and see what projects you guys and gals are working on! Cheers!