Hi, I was lucky to get this heavy pair at an auction yesterday. They seem to be in good condition - no corrosion. My question is how do you test it? it's not the regular Lionel, it's the Standard Gauge, I believe, as Lionel dubbed it.
I do have Lionel transformers from the 1950's, is it okay to use these to test to see if the engine is running? I think they are 12 volts. And how to test it? Put the AC leads on a pair of the middle wheels, one on each side?
Did they Lionel Standard gauge transformers of the 1930's use a greater amperage or wattage?
Thanks for the help.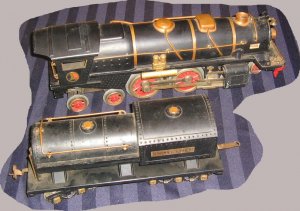 Last edited by a moderator: