I have the original number plate from the front of Erie N-1 Mikado 3043 that was scrapped around 1952. A railroad worker gave it to my uncle who passed it on to me. I have two or three photos of 3043 in operation and awaiting repair or scrapping. I would like to model this engine, but I am on a very limited budget and am willing to take some rather significant shortcuts in order to keep the cost reasonable. Nickel Plate built a model of the 3024 which was part of the same Alco production run as 3043. Since brasstrains.com has some excellent photos of this model, I am going to use it as a general guide. This brass model sold for $800.

http://www.brasstrains.com/images/products/052254/DSC05562.jpg
Here's a link to a picture of 3007 running through Waldwick, NJ where I grew up:
http://lists.railfan.net/erielackphoto.cgi?erielack-03-01-10/ERR3007z.jpg
My model doesn't have to be prototypically exact, but I want to capture the "feel" of the engine. If you compare it to other "light" Mikados, these engines were slightly shorter than most which gave them a rather "scrappy" or "gung-ho" appearance. They also had no shortage of pumps and othe appliances festooned all over them including the feedwater tank above the smoke box.
Most Mikados on the market (like the Mantuas) are just a bit too long and don't have the "hunched up" muscular quality I want. I think they are standard USRA light Mikados. From what I have seen so far, it almost looks as if I would get closer to my prototype by finding the correct 2-8-0 and adding a trailing truck. I ordered a couple of trailing truck assemblies from Bachmann parts and am going to experiment with a couple of 2-8-0 locos I already have.
Anyone have any suggestions for a base loco that more or less fits the bill?
Anyone have experience adding a trailing truck to something like a 2-8-0 or is that nuts?
I am waiting to receive a "medium" length Vanderbilt tender from Bachmann that is actually reasonably close to the prototype. Most Vandy's out there are rather large and have six-wheel truck. The one I ordered is just slightly long, but it is pretty similar to the prototype and has the four-wheel trucks I need.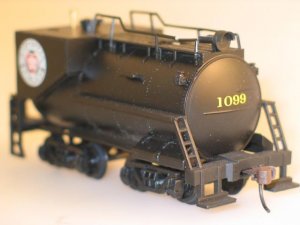 Any suggestions or advice would be greatly appreciated! Remember, I'm looking for the correct "feel" but my budget is very limited.
Glen