Burlington Bob- Since you asked, and I finally got the better camera out...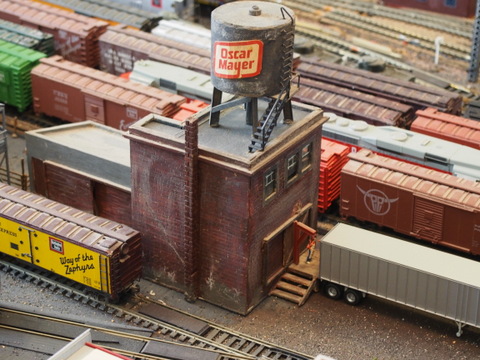 Oscar Mayer meat packing plant I scratch-built from an article in MR about 62 years ago. Building is all balsawood, with the bricks inscribed with a pencil. It has resided on every layout since.
Below. E-5A/E-7B tow the Denver Zephyr up the 2.5% grade out of Galesburg on the Grashhook, Galesburg & Western Division of the C.B&Q.
Burlington M-4A prepares to leave the Galesburg engine yard to hook up with a heavy coal train. Engine was kitbashed from two Mantua Mikados, remotoreed with a Canon coreless motor and equipped with Soundtraxx Tsunami decoder. Central drivers are blind, and locomotive will handle 18"R curves with ease!