Hello everyone. Today we ran a first trial operation session using a simplified train schedule and the Digitrax fast clock. It was a fun (and educational) experience. We've run the RR many times since the staging was completed, but the schedule adds a whole new dimension! While the first drafts aren't fully developed, the schedule worked quite well. David provided some additional info we're looking into incorporating into the plan, so I know it'll become more refined as time goes by. We used some real Rio Grande 1960's Joint Line train numbers and made up the rest. Ten trains were packed into an 8 hour (4:1 clock) shift. That's some pretty serious traffic density, but we're in this to run some trains.
We also identified a few items that need to be addressed. We need 10-15 more coal hoppers, another loco set, and possibly a new crossover. The crossover would help prevent "log jams", but careful scheduling can do that as well.
During normal operations, the Sedalia local will dodge mainline trains while performing it's daily switching duties.
Here's a depiction of the loaded staging yards. We did something a little different on the set up today. Note that the train numbers were listed in addition to the loco number. That will help in the identification of trains when they're on the layout. Certain trains will be setting out/picking up cars, and need to be identified by train number.
Here's LGM taking train 69 (Denver-Platte Canyon) thru to the west yard.
Northbound train 70 (Platte Canyon /Denver) waits on a siding south of town for a clear main.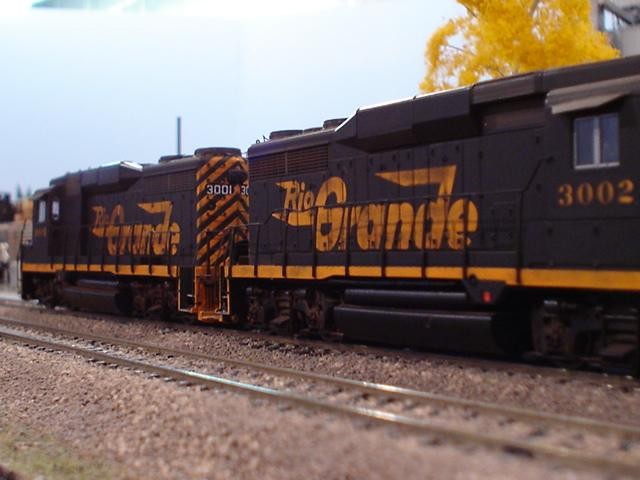 The wait's almost over. Southbound train 67 blurs by on it's trip to Pueblo, Colo.
We're open to any and all comments as to how we can more realistically operate the RR. There has even been talk of setting up a dispatchers desk and having radio communication between him and the engineers. That would only work when we could get a third operator involved though. Thanks for reading and happy railroading!