My new place is much bigger so no more trying to figure out a tight loop "shelf layout" I can actually expand into 250x120cm
Wasted no time getting the board built..
It's on lockable wheels too so can wheel it out to work on.
Now to go for a concept..... it's still going to be a HST dedicated layout.
I have some ideas of how I want it but I'll have a fiddle and see
Figured I would start a new thread in N because my last project died when I had to move at short notice :/
Update 2023-11-17
Have cleaned up and mostly finalised the layout plans i have been working on these last weeks and while only the top end of the "high speed loop" is decided, there are a few different options for the middle to where it goes outside the loop again over the viaduct.
Phaze 1 basic layout (oh and the orange line at the top should show it dissapearing into a tunnel just at the end of the straight. The scenery on right side will be liftable for recovery/cleaning etc..
The train storage will be a shelf layout with a transparrent acrylic "dust" cover (Possibly a model rail shed). that my table can lock to. It is on lockable wheels so i can wheel the layout out to work on. This way i do not have to pack up the trains to work on it.
Anyone have any experience with detachable rail interfaces? It would be nice to just unlock and pull without disconnecting joiners.
It is kato unitrack so i was wondering if anyone has tried using small magnets? Or would they be bad for the train motor going over them?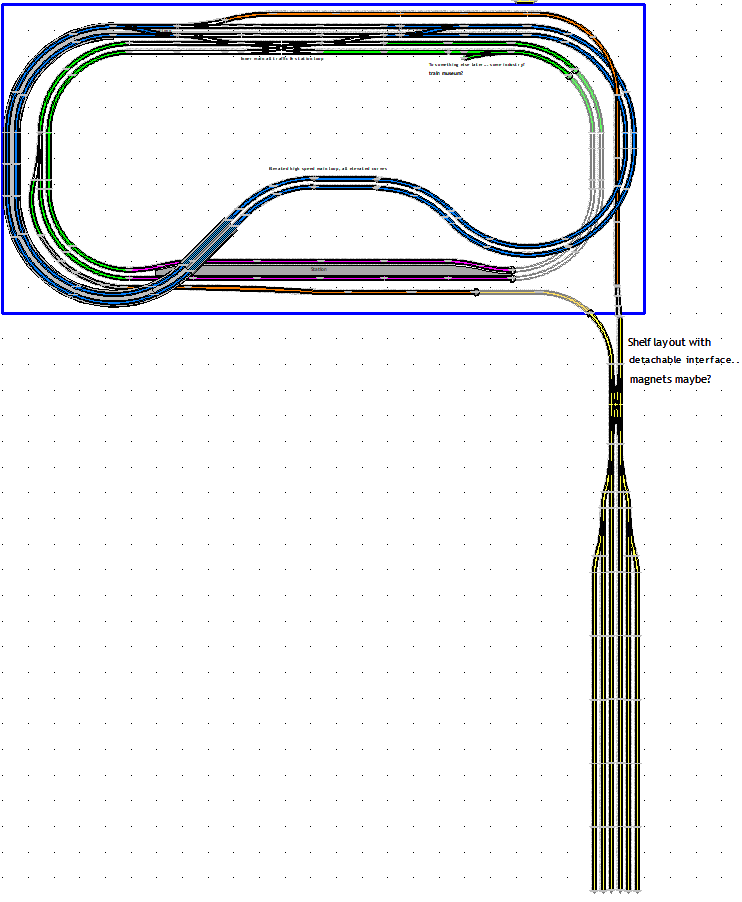 Phaze 2
the high speed bit (left side not totally sure about that long viaduct on left yet.. Or the middle bit as there are several options available.
All the curves on the blueline will be elevated curve unitrack.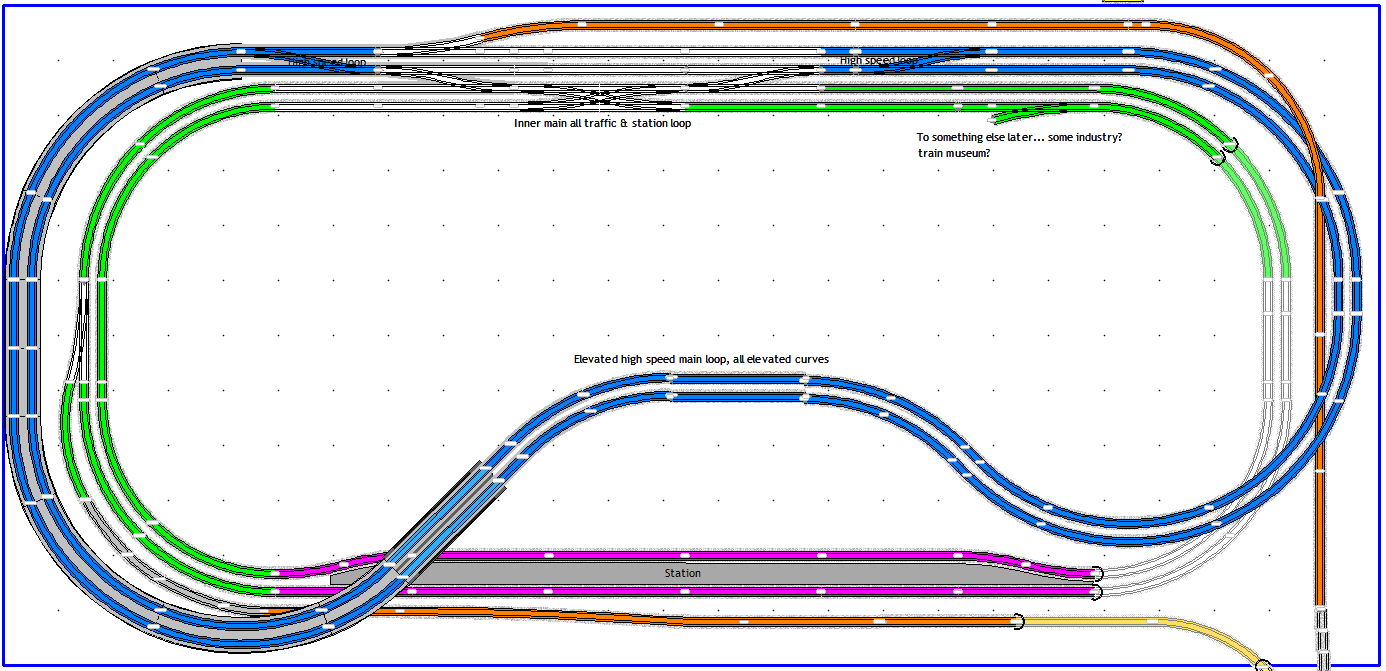 Update 2023-11-20
Managed to get a lot done at the weekend. Layed out the main loop and tested it with my chibi minions. My little steeple cab loco could easily pull 4 passenger carriages up the 2.0 gradient but struggles with more, unless I add my other trailing steepe cab to push, then it's no issue with 10.. but that's ok, is is a tiny steeple cab pocket line train. I was surprised it could even pull that. The 8-10 car shinkansen trains have no issue at all. Have also started working on the tunnels and removable top.
Last edited: