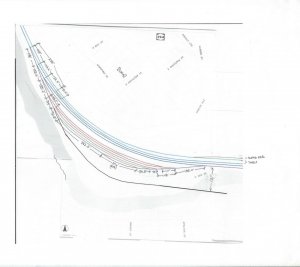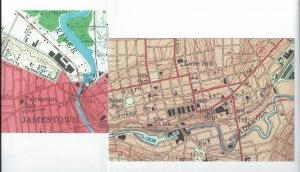 Jamestown, NY Erie-Lackawanna (former Erie RR) Yard.
The scan on the left is a reduction of three taped together 8.5x11 copies of portions of the Chautauqua Co. Tax maps covering the depicted area. [FWIW, Each original tax map is approx. 2'x3' and showed more than I needed.] The area depicted is the westernmost yard. On the right edge, four of the five tracks lead to a smaller eastern yard (one dead ends about where the edge of the scan is). Being that the tax maps are of a larger scale it's a bit more accurate to take measurements off it (assuming the tracks were fairly accurately depicted).
The scan on the right is a x400% magnification of two USGS map details taped together (two diff. USGS quadrants/maps). The USGS scan shows both yards, topo detail, etc. and, when used with the tax maps, can confirm or question a particular detail; in this case track arrangements.
While I won't be able to model the yard(s) to scale, knowing the prototypical size may help me make good compromises and put things in proper relationship to each other. Most of all, I don't have to "invent" a yard ladder but, rather, adapt one that is differentiated and serves to identify this particular location.
[Edit: BTW, I indicated my where I lived, as a 3rd grader, at 'HOME' on the left 'Tax Map' scan.]
Last edited by a moderator: