So I've been planning this car since I grabbed myself one of those John Deere sets. I'm modeling
CTIE #276983
, an interesting gondola.
I began with an Athearn John Deere car: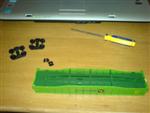 I striped it with pine-sol & primed: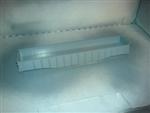 Today I added the yellow undercoat, (Boyd Smoothster Yellow) remind me to never choose Boyd paints again, I must have made 10 passes! Masking tape on the "to remain yellow" panels, while the paint was still a little tacky. I then over coated it with Testors Flat White. As the flat white dried it cracked a little getting that "not so perfect, quicky paint" look. 20 mins dry time, some more masking, and I painted the underside flat black ((I'll weather it later!). Upon removal of the masking, it took some small patches of white off the uncured yellow, looking even better!
It's in the Dullcote drying process now, late tonight, or tomorrow I'll do some power weathering to get the off color white look. The decals will be in the mail in a few weeks, after I get the payment for a custom paint job I'll be doing.