I've had this train show treasure boxed up in the storage tote for a few years, and I think it's time to do something with it.
I have already done the mundane tasks, such as adding Kadee #148 whisker couplers, and Intermountain metal wheels. It's very smooth rolling now and couples and uncouples like a charm.
I put it on the scale and it was 1-3/4 oz. too light. I was a bit concerned about where I could hide that much weight on a flatbed, and then discovered that the top of the trailer can be removed. So I added 1-3/4 oz. of Harbor Freight Special wheel weights inside the trailer. Adding weight that high above the deck is not the best way to do it, by any means, but my options were pretty limited. Ya does what ya gots to!
The coupler box covers are held on with a friction pin cast into the center of the cover. You can see the molding mark on the covers in the above pic. I think what I am going to do is add a couple drops of white glue on the side of the box, one per side, just to keep the cover from falling off, but still allow for removal if needed.
Here the car has been washed with soap and water, and rinsed thoroughly. From this point on, until final sealing with a flat clear coat, the model will only be handled with gloves on my hands. This keeps fingerprints from showing through the paint, which can be a problem particularly for acrylics, which is what I use. I will sometimes paint small details by hand with enamel, but I never spray enamel.
I will allow this to dry overnight, then it will get a fade coat of 50/50 thinner mix and Testors Light Ghost Gray acrylic. I don't plan to fade this car too heavily, as it would have been fairly new in the late 50's, which is when my layout is loosely based. (
Extremely loosely!
)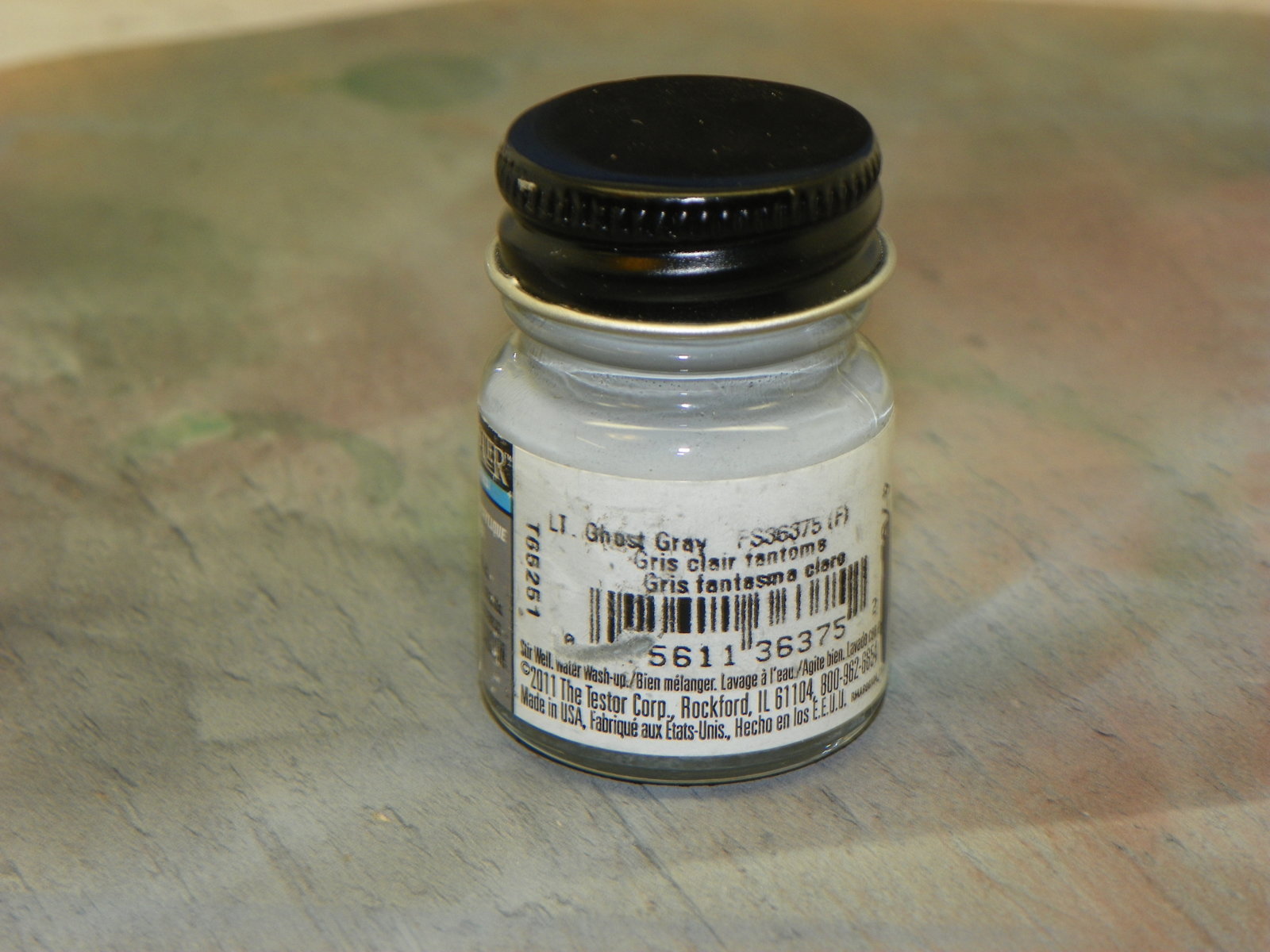 I pick up a bottle of this every time I go to Hobby Lobby. I have this bottle, and 5 more unopened in the bin! My LHS doesn't stock this color, so I get it from Hobby Lobby. Might be time to lay off for a while.
The trailer will get a light fade as well, but not much dirt. Trailers are generally kept fairly clean.
The deck will be weathered, though not heavily, and some black marks made to indicate where the tires rolled. The sides of the retainer on the deck will get some black scuff marks from the tires.
This should look good when it's done!