The morning sun was bright and we decided to catch some Monday morning traffic on the CIOR's Dunreith District. We felt the best option was to
stop by Hawthorn yard or Pine Holding yard. Pine is on the mainline, while Hawthorn is on the old Freight mains. We arrived at Pine just in time,
we see Conrail 6075 leading a CIOR 216 and decide to take chase.
Here we catch CIOR 216 heading east out of the holding yard at Pine. The signal on #2 is all red, nothing must be coming toward us.
We rushed down side streets and onto US40, across I-465 and down Franklin Road just in time, as we set up, we could see his headlight.
You can see the new signal bridge, but the old tower still stands. Progress versus Past.
Our buddy caught him from the crossing, looking east.
Pacing the train to Greenfield is tough, luckily we beat him into town thanks to a couple of slow orders. Here we catch him coming into town.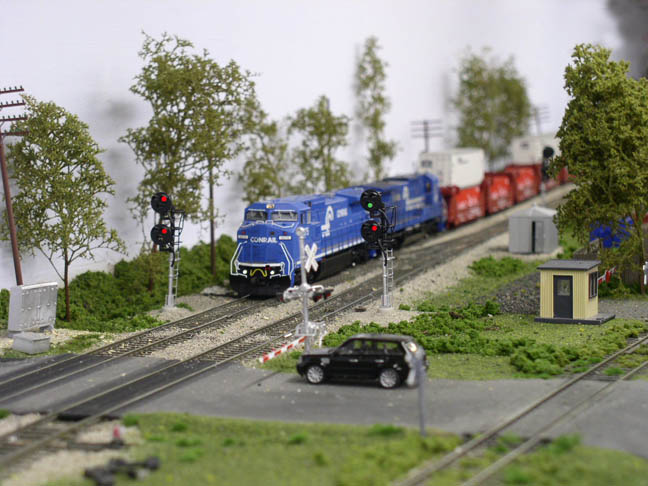 Thanks to yet another slow order for a crossing replacement on the east side of Greencastle, we are able to get to CP-Riley long before hand.
Thanks to some kids there was a nice treestand that leads to this great photo angle. 216 is laboring to get the train back to track speed for the
journey on east.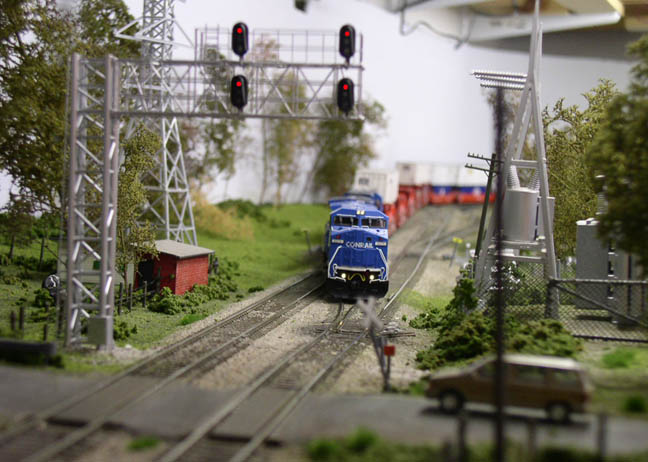 Thanks to US40, pacing some trains is possible. Thanks to todays numerous Maintenance of Way projects, the 216 is slower then ever!
Here we catch the 216 just east of Henry crossing the creek. The train is entering what some call "Raysville Cut", where US40 is higher then the
railroad tracks.
Finally a few crackles on the scanner, we hear the dispatcher say that 147 is heading east at Gem and has a 3503 in the lead. Anyone familiar
with the CIOR knows the system of engines. The 3503 is a SD35R, and is normally found on other trains, a rare find on a auto parts train.
147 is a lower priority parts train that normally carries freight on the rear, but still a shock for SD35's on it.
So, we rush from Raysville back to Riley interlocking and set up in the old tree stand. Long gone are the days of the double signals at Riley, replaced
by the modern signal cantilever, but its still a nice shot.
Heading down the road, we rush to Henry, only to see the engines pass by, onto Raysville cut if we can make it. Jumping out of the car at the old rest
stop/pull over, we grab this shot of the 3503..
We decide to try one more grab at Dunreith, trying to capture it crossing the old NKP diamond there.
With most of the day spent, we decided to end another day along side the CIOR's Dunreith district, even if it was only part of the line.