Registered Member
Staff member
Here are some pics of my layout. It is my Freelanced version of the CB&CNS Railway. set back in time to the
late 70's and is in an around the room layout with a peninsula in the center. The layout dimensions overall
are 18.1' x 15.5'. The peninsula is 16' x 9' and contains six staging loops below the top level. The operation
of this layout will be from mainline trains delivering and picking up revenue cars for the area. These revenue
cars will be switched and handled by road switchers to service the local industries. The main revenue for this
branch of the CB&CNS will be coal hauled from the mine to the power plant. These industries are located on
the top of the peninsula. In addition there will be a harbour wih a fish processing plant, a sawmill industry on
the opposite side of the room.
I've been building this layout for the past three years, and though it looks like fairly slow going on my part, it
really isn't because all the locomotive power has to be custom made from other models. I hope you enjoy the
tour, which I'll try to keep updated as more of the layout is completed. More information about my layout is
available at my website
http://www.freewebs.com/cbcnsfan/
Enjoy!! the tour
To get an idea of my planned operation. we will start at one of the lower staging loops. The locomotive in
this tour will be CB&CNS 2003 John Galt a MLW C630M
We will follow number 2003 with its consist as it leaves a staging loop and enters the layout from the tunnel
then crossing Barney's River and then starting up the difficult grades in front and to the West.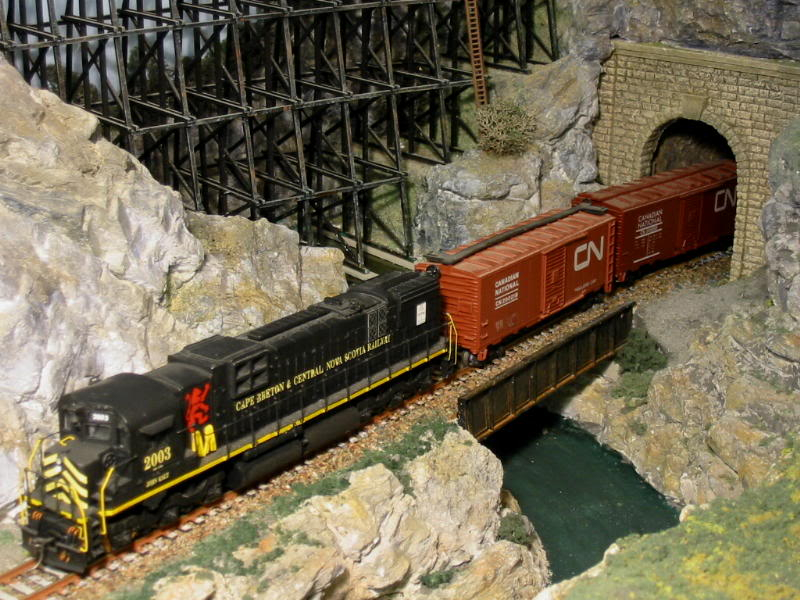 This is the area of difficult grades mentioned as you can see far from finished. The upper road is the Spur to
the power plant
Continuing up the grade we come to Sutherland's River. This area of bridges is actually a gate for entry
to the layout asiles. You can also see part of the staging loops and the power plant in and on the peninsula
After crossing Sutherland's River there is a choice of routes to follow. For the Little Harbour Yard there is the
inner and outer tracks, there also is routing for the Coal Mine Spur, for this part of the tour 2003 will be
taking the outside tracks
The other entrance to the yard from the West also has the choice of tracks to be selected only inner and
outer tracks can be chosen
While we were following 2003, another MLW C630 number 2034 Sir Conan Doyle had left the upper staging
area, and is travelling Eastward
Here we see number 2034 entering Little Harbour from below the overpass for the meet in the yard with
number 2003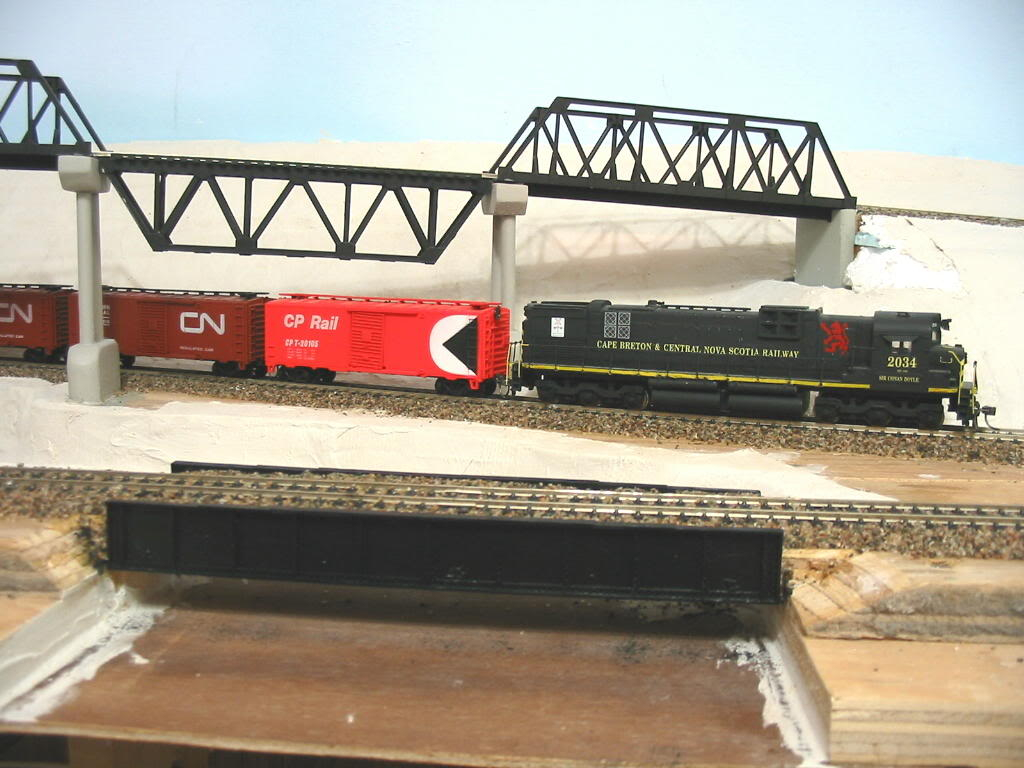 A short stop will be required if there is an interchange of revenue cars
between local, East or West deliverys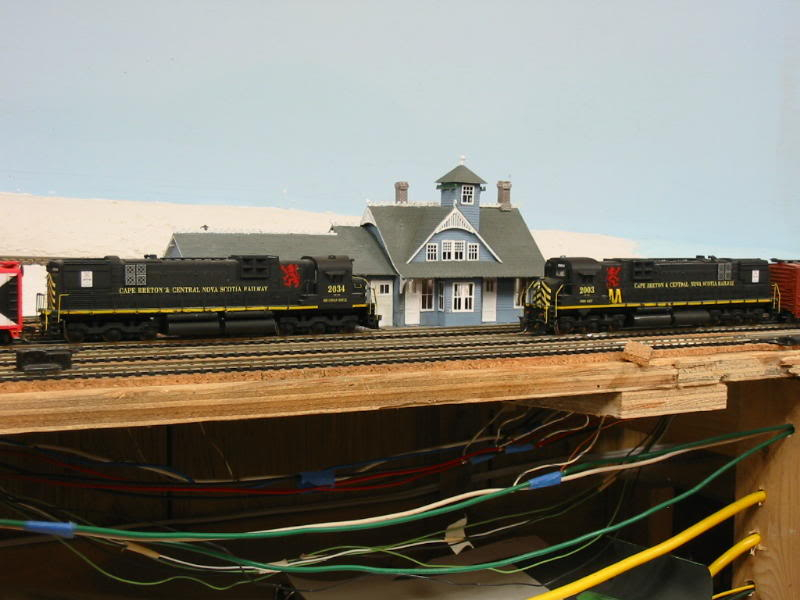 All yard switching will be done by the local road switchers assigned to Little Harbour area. Completed
switchers shown are GP18 CB&CNS 4700 Gerard MacNeil and MLW RS18 3675 Sir Charles Tupper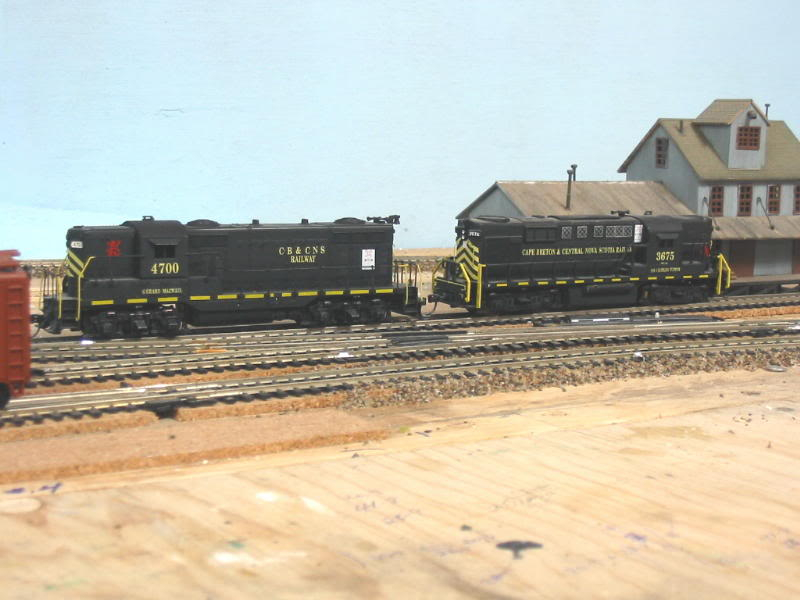 If and when switching as required is completed the two C630's will couple up to their respective consists and
continue their journey, CB&CNS 2003 will continue to the West, to the staging area vacated by CB&CNS 2034
as will 2034 continue Eastward and fill the staging area vacated by 2003
Hope you now have an idea of how the mainline will be operated. It may be a little while before I finish a tour
of the local switchers duties on the spur lines.
Cheers Willis
Last edited by a moderator: