Plucking (and reworking some of) this first part out of my original thread, posted in Layout Design & Construction:
I've worked for a couple weeks on this track plan, reading up on different ideas, revising the plan, fixing mistakes, working in buildings and I already have and also trying to find other things I'd like to use to fill in the gaps. Also, big thanks to those of you who chimed in on suggestions for the initial track plan. I appreciate every bit of advice! So I've made some changes too...
My room is small (a little over 6x10 with a windowsill area on the lower right roughly 15 inches deep, where I will create some big-city depth to the background...I hope), but I want to start small -- the thought being, when my sons are older, if they want (let's hope) their own layout to play around with, and I'm still interested in a bigger layout, they can have this one and I'll build something bigger in a different room.
Lastly, had I known a million years ago that I'd have a small room to use, I'd have collected N scale. As it is, I have a ton of HO scale stuff and no N scale, so a scale change isn't going to happen. Way too much invested, and I'm not selling it all.
So here's the updated track plan: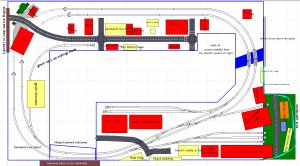 When I thought of a layout this small, I figured it would just be a collection of track, industry and buildings, most of them just placed somewhere in no particular "order." Yet, I somehow was able to separate/progress the individual locales here (starting with farmland in the lower left, progressing to small town in the top middle, on to city and industry in the lower right. I'm planning on using the sidings not so much as an "operations" layout, but more of a "parking lot" and if I feel like dragging a train of grain cars out around the layout, I can stop off, pick them up, give them a couple turns around the loops and park them again. Same with the industries in the lower right. I'm looking more to run the trains and create scenery more than stand and operate the sidings and businesses.
I used that SCARM program for this, so each box is 5"x5", for what that's worth. Here are the two 3D renderings I pulled from SCARM: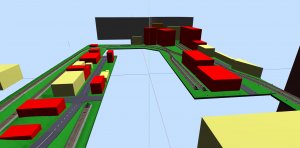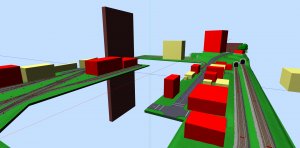 Lastly, I'll spare you the picture of the room at the moment -- I'll save it for when the thing is pretty much cleared out (there's still a few odds and ends in there). I've got more work to do in there, plus I need to figure out exactly how I'm going to approach building the benchwork for this thing, given the wide variety of options out there (shelf brackets? legs? what size lumber?).
But at least I'm committed. I went to the Great Midwest Train Show in Wheaton, Ill., yesterday (as I do most months "in season" and especially around the holidays) and was able to pick up almost every single piece of track I need -- some of it used, some new, including the 30 pieces of Flextrack -- for about $180 total! I was pretty psyched about that, especially since I priced almost all of this closer to $400 online at a certain Web site.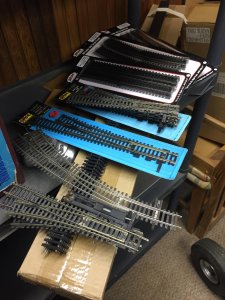 Oh, and just for your knowledge...I'm going with DC and Atlas Code 100 track, except for the curved turnouts, for which I'm planning on getting Shinohara turnouts there. I have a variety of roadnames, but my hope is to run CN and CP equipment predominantly, with an occasional "surprise" roadname whenever I feel compelled. I'm not planning on operating the layout as much as I am planning to let the trains run around while I design, work on and appreciate the scenery.
Anyway, sorry for the long opening salvo here...I suspect as I make progress, things will shorten up a bit.
Enough for now...thanks and I hope you enjoy following along my journey!
Andy