Really haven't been overly active on the boards lately, but I have been doing some work. I have decided that a "Temporary" structure on my layout is no longer going to be temporary and I figured I needed to dress it up a little bit.
Starting point:
I built this turn around area as a temporary structure as the long term plan has this being just a regular corner in the basement. The plan is to leave enough room for the dart board and work bench pool table. Well, after having the turning area built for a while, I cam to the conclusion that there was plenty of room for all three and no real need to take it down right away. Then I got the idea to scratch build a turn table, which I did and you can see. I then built a round house our of a simply balsa skeleton and cardboard walls and roof (covered with regular paper printed to look like brick walls and a roof. And that's pretty much where it has been for the better part of two years.
Fast forward a bit, and I built the next extension to my layout and a nifty little corner piece that was all decorated and pretty. This left me a problem of a "finished" section right new to a bare section.
Rather that re-design and rebuild, I figured I could just make do with what I have (that's the great thing about building a fictional RR). The big hole between the boards will become a swamp/pond. That big square board that sicks out for no reason shall be the parking lot for the round house workers.
Step one was to build the swap floor. I took some old screening that I had and stapled it to the underside of the boards. Then I took a few layers of drywall compound to the screening to seal and stiffen it. On top of that was some brown latex paint. I hit some other areas with the paint, too. I took some foam and cut out a few corner fillers and whatnot.
Then I needed a way to blend in the parking lot. What do crews do if they need to fill in a wet area? Fill it with stone! I literally took a small gardening shovel and a buck to the cemetery across the street from my house and scooped up some of the road gravel and used that. With the same technique used for ballasting, I built up the sides where the crews would have had to fill with rock.
And this is where I am so far: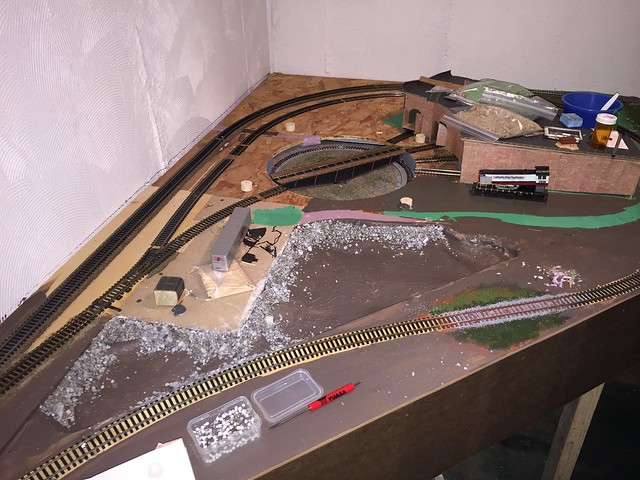 Next step is some clean up of the rocks at the bottom edge and painting of the pond bottom. The pond is pretty multi-leveled, so that will be interesting. Then epoxy for the water. This may be a slow project, but I'll get it there.