Hi folks ....
I'd like to model the original, 1929 version of the Empire Builder. I plan to buy the locomotive, but build the cars from scratch, probably in O scale. After searching the GN archives and numerous other sources, I've not been able to find any specs on these heavyweight clerestory cars or consists for the train. I have learned that they were steel cars, not wood with steel sheeting. Each car bears the "Empire Builder" lettering above the windows.
Photos are also few and far between; I've found none good enough or close enough to guide a modeler. Plus they are all black and white (but I'm pretty sure the cars were painted Pullman green).
Anyone have any info on this rolling stock, or suggestions for sources for specs and/or photos?
Here is a distance view of the train: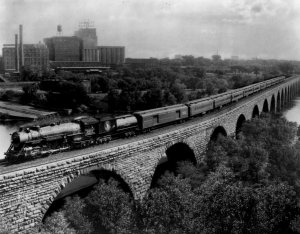 Thanks in advance for any help!
---GaryM