Forum:
I did something really stupid...I have a gas water heater near my layout and I "
have
" used the top of the heater as a spot to place locos off the layout. Well, I put one loco too near the hot vent pipe, forgot about it and I warped one lower side of the loco's cab. Nice!!! Normally I place the locos well away from the vent pipe.
This loco is a great runner and has DCC installed. I am wondering if I can use a heat gun and reheat the panel and use some type of means to press the warped panel back in place??? It's the plain panel under the cab's side window.
I included a photo of the loco before the damage occurred.
Any ideas or suggestions?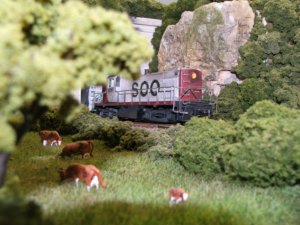 Thanks.
Greg
P.S.: Alright give me the "Dumb Idiot Award of the Month".