I've been playing around with the idea of magnetic loads for flat cars.. It struck me that every flat car has a metal weight plate under the plastic deck. I set out to find a magnet that was small enough and strong enough that it would securely hold a load on a flat car deck.
For my test load I found a 2" x 1" x 1/2" magnet. By itself this magnet was so strong that it was painful to pull it off the flat car. So I cut down to a smaller 1/2" x 1/2" x 1/2" cube. I selected a resin casting of a lumber load. I chopped out a cavity to insert the magnets. The magnets proved strong enough that I was able to glue scale 4 x 4's to the bottom of the lumber loads. Multiple trips around the layout and the load stayed in place. To remove the load you still have to hold the flat car down to break the magnetic grip. THIS IS GOING TO WORK......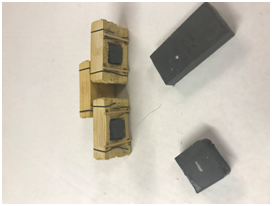 I've long had the habit of cutting up scrap bits of 3/4" lumber into random lengths of 1, 2, 3, 4 inch lengths that I would clad with scrap scribed sheeting to represent various size HO crates. The sheeting was haphazard; horizontal boards, vertical boards, plywood. If the scrap sheet fit it was stuck on the scrap wood core. All of these crates would end up on loading platforms around the layout. To install a magnet into an existing crate I needed a round magnet; it had to be 3/4" or less, short in height and strong enough to "stick" to the metal weigh plate under the plastic flat car deck. I found this 8 pack at my local Home Depot. I actually took an old flat car with the metal plate attached to it to try and determine the magnetic strength. I have to say its frustrating to find the right magnet. "Hobby magnets" don't have a strength or pull force rating.
Being sold in their blister packs it's hard to determine the strength of just one magnet. These magnets were 8/$4 and seemed a good investment at 50 cents a load.
This (8 per pack) of round Ceramic Block Magnets is perfect to use for crafts. Round shape easily fits onto smaller items. Use to make your own custom magnets.
The other magnet that I'm using are the old kitchen cabinet magnets from decades ago. This is what they look like once the plastic case is removed.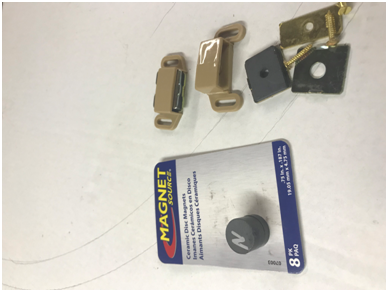 I took all the magnets out of the package and oriented and marked the poles in one direction. Don't know if this is an issue - but I don't know what I don't know.
I used a 3/4" Fostner bit to drill a hole in the underside of the crates I've made over the years. I wanted the magnet to be flush with the bottom of the crate. I felt that it would give me maximum "stick" to the flat car deck and allow me to add 4 x 4 spacers that would look good sitting on a loading platform. I pumped RTV silicone into the hole, oriented the magnet and laid a metal plate across the base to keep the magnet flush with the bottom. 4 x 4 spacers were glued on after the silicone cured.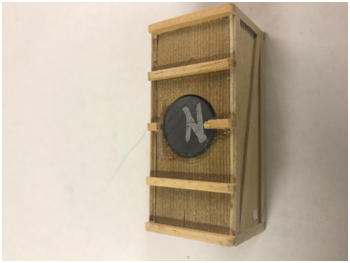 Some of my guidelines.
I run short (40') cars on my layout. Flat car loads will be no longer than 16 feet. (1 magnet). This has given me the extra bonus of mixed loads; I can now put a load of lumber on one half and a large crate on the other half. I can actually off load one item, leave it on a loading dock and send the flat car on to the next customer.
Small crates (1", 2" +/-) will get glued together to make up one 16' load.
Beware that small crates (1" x 1") next to each other with magnets will repel.
Crates can be loaded into gondolas.
Apparently orienting the magnetic poles allows me to stack one crate on top of another with sufficient "grip" to ride around the layout. Beware height limits.
The magnets imbedded inside wooden cores weigh almost nothing
Some examples of mix & match loads; same two flats with loads swapped around - gondola with load
Operation is now enhanced - Loads can sit on the customers dock until the "empty" flat car arrives. Or the flat car load can be off loaded at the end user.