Hi all,
I opened up my little 1976 Westside GN A-9 today. Here's a pic: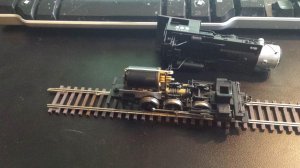 This little engine looks brand new. However, doesn't run so great.
The slow speed performance is pretty bad, takes quite a bit of juice to make it start running. I'm thinking it may benefit greatly from remotoring and/or regearing, but wanted to see what you guys thought.
Or maybe it just needs some lube? It probably hasn't been run in 30 or more years, but I do see SOME lube on the gears. May not be actually lubing, though.
What do you guys think?
Brandon