An Ulrich 52' 6" Composite Gondola Build.
Not a whole lot to this kit, (compared to an Ambroid or Ye O Huff & Puff kit,) but I'm going to do a bit of a kit bash on this one.......
All the parts bags are sealed... kind of lucky for a kit this old.
Here's the parts out of the bags. I've done some flash clean up on the side panels open frame work. It was pretty bad, took me about an hour to clean both side pieces, and I'm still not done, I've got some other files coming to get the small angles in the frame work.
The two screws in the below pic are supposed to be used for attaching the coupler boxes, and the modeler is to furnish #2 x 3/8 wood screws for attaching the trucks. The problem with the coupler box screws, is that you have to drill out the center post in the coupler box for the screws to fit. Well, that's not going to happen!
I'll use 1-72 screws for the coupler boxes and 2-56's for the trucks.
I drilled out the mounting holes in the bottom piece, oversized, filled them with a two part epoxy, and now I'll use a bottoming tap to form the appropriate threads. (four dots in floor piece)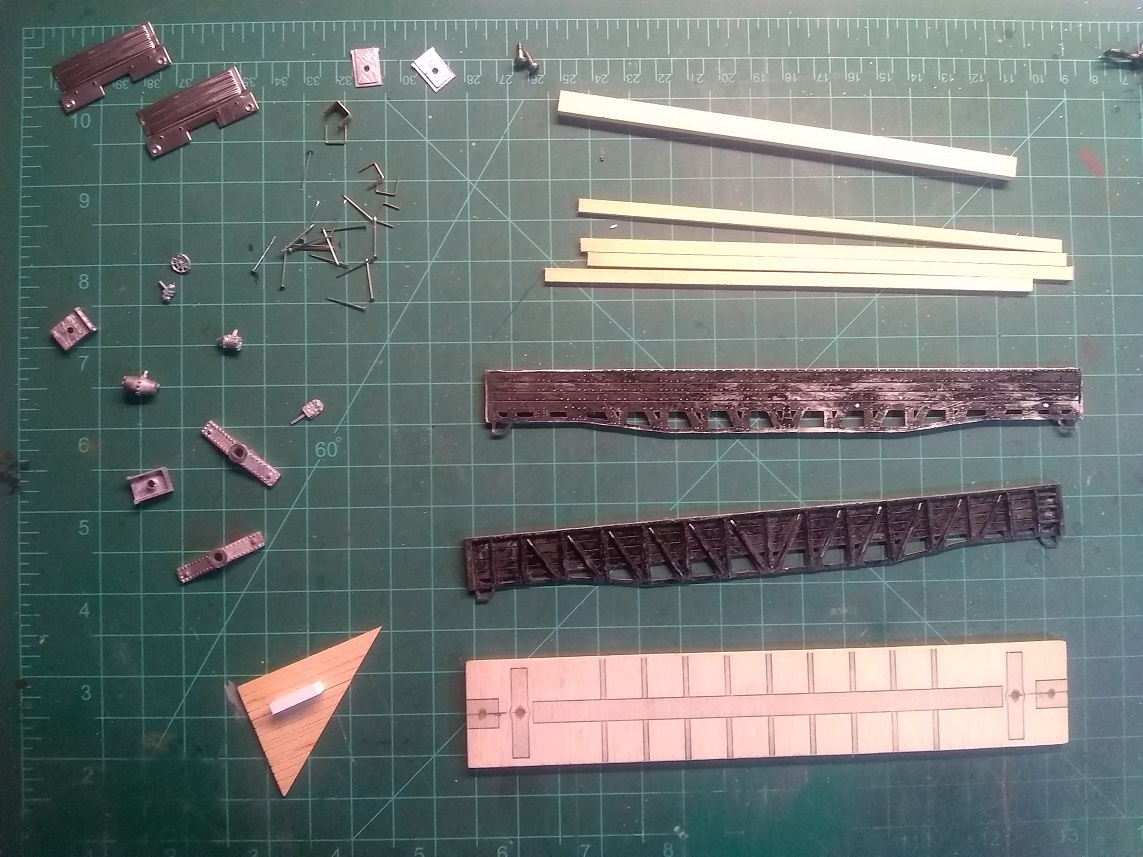 For ease of painting and adding decals, I'm going to replace the wood for the center sill and cross bearers with styrene. Had to order the styrene.
The triangular piece of wood with the styrene is an experiment too see how well they glue up together. A few strokes of the edge of the styrene on the fine side of a nail file, with the slightest amount of Elmers white Glue-All. After drying, seems like a good strong bond.
What's your experience bonding wood to styrene?