Good Morning All. Clear and 44° in this part of the world. Mid-60's today and tomorrow but the stiff NW winds will continue and overnight temperatures will be in the mid-30's. Near 80° Friday and Saturday, upper 80's beginning Sunday.
Retirement was the best move that I ever made. I planned on doing it earlier but the retirement account took a massive hit during the early Obama years. I ended up waiting until I was 63. I spent years stocking up on model RR supplies and equipment prior to retiring. Lived three years on retirement savings before I started taking SS, and made up the previous living expenses (plus a lot more) when I started self-managing the retirement accounts. Haven't had a house payment since 1995 and I pay cash for everything. The only debt that I have is the monthly AMEX bill which I pay off immediately to avoid interest. I do seem to have less time to do stuff now, but medical visits have increased for both of us dramatically in recent years. Like many others, I never looked back.
Thanks to all who commented on or reacted to the General Store photos yesterday;
Guy, Troy, James, Steve J, Hughie, Chad, Gary, Patrick, Tom O, Mikey, Dave B, Lee, Louis, Joe, IB Ken, George, Curt, Tom, Rick, OB Ken.
I eventually made it out to the train shed yesterday, after dealing with some housework. Pretty much the same stuff out there that I have been doing lately. I ran a couple of trains interspersed with some more minor ground cover work. I also populated the sidewalk in front of another structure. First here is the one that I didn't show yesterday because the pictures were blurry.
Before - the recently built Walther's structure.
After with a few patrons.
Then I picked out a Smalltown USA structure from the town of Charlottesville.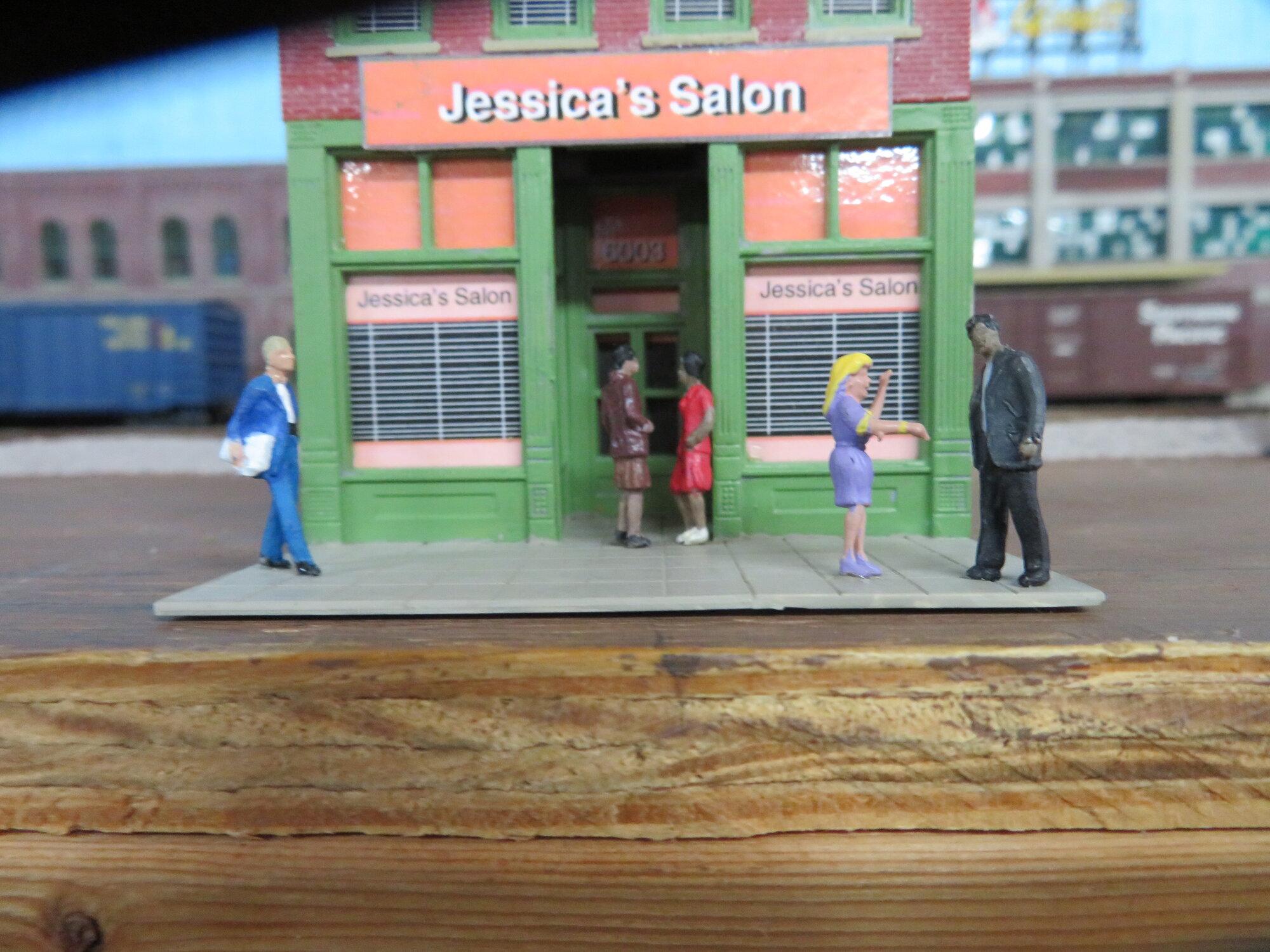 Troy
- Yes indeed, tornadoes are serious business here. Monday evening's event is the second closest one to here , the closest was about 30 years ago when one touched down less than a mile NE and traveled away from us. We were just getting out of the pool watching it. It bounced up and down without damaging anything in it's path. Another one about six years ago traveled 25 miles over open land without hitting anything, It was three miles south. Despite our luck, they are still a force to be reckoned with.
The walls look good.
Guy
- I like the looks of that gas station.
I am going to pick tornadoes over constant snow and cold. Each part of the continent has something; hurricanes along the Atlantic and Gulf coasts, wildfires and earthquakes on the left coast, floods in Louisiana, avalanches in the Rockies, snow and tornadoes in the Midwest, etc.
Greg
- I would be careful about using an exterminator for the field mice. They will set out poison bait traps and Riley might eat one of the poisoned ones. A barn cat is a better idea.
I agree about the ScaleTrains packaging. It is topnotch.
Still wondering where
Karl
is???
Everybody have a great day.