First of all this is kind of different, not many trains involved in this operation as it pre dated trains,,,
It is not known how long ago lead mining began in "Lead mines clough" but the earliest records surgest mining started around 1690. The most successful period being around 1780, the mines were only producing small amounts of lead ore and mining ceased and the mine was abandoned in 1837. The lead was used locally in building construction, such as lead flashing on roof's, it was also used to hold wrought iron fitings into masonary, items like gate hinges and railings.
this is a general overview of the area, the spoil heaps you can see on the far embankment are were the three main shafts were located
spoil heaps located a short distance down the track, these were surface workings, 20ft - 30ft down
this is the enterance to another shaft which has only recently become visable, no way am i going to stand in this, there could be a 50ft hole underneath !!!
Like most mines, this one suffered from flooding and here is a drainage sough dug horizontally into the main workings around 150ft away
warning sign
and looking inside past Boris the spiders web, WHY am i attracted to holes in the ground, it must be a disease.
at the base of the bank upstream is this arrangment of holes, fenced off for good reason, the round shaft is at least 25ft deep, and what went in here
This is what went in, a fifteen ft water wheel connected to a water pump, very ingenious when you think this was OVER 200 years ago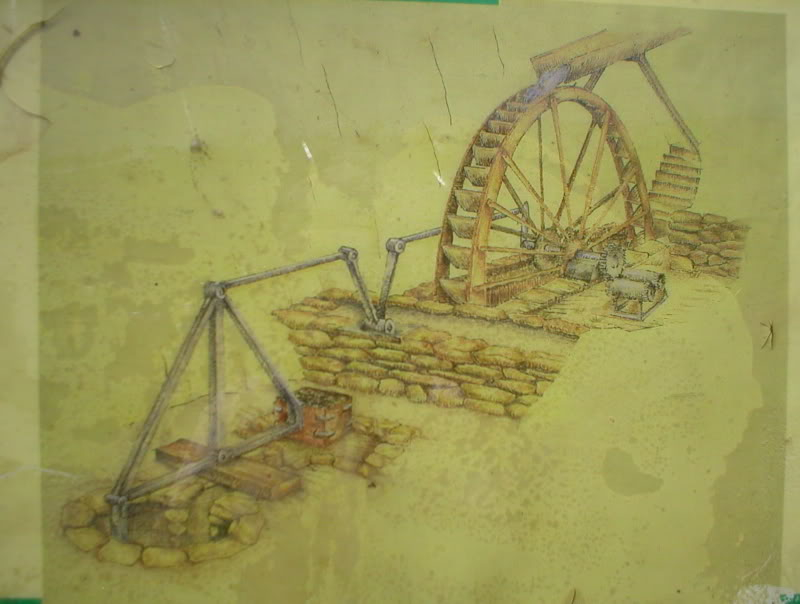 once you pump out the water and washed the mined product were do you put the leftover gunk,,, in here, the Slime pit
Once mined the mixture of ore, mineral and rock brought to the surface, known as bouse, needed to be processed before smelting to clean it and separate the ore from the waste. This was known as dressing. Dressing usually involved crushing and then washing. The earlier methods of dressing occurred near to the shafts and involved manual processing. Later, large centralised dressing floors were built. These mechanised dressing floors were equipped with water powered ore crushers, and hotching tubs where heavy ore was separated from lighter waste by plunging a basket containing bouse up and down in a tub of water. Also used were buddles where fine particles of lead were recovered using flowing water, much like gold panning. When you introduce bouse into a stream of water the light waste is washed away leaving the heavier ore behind. As much of the ore dressing machinery was made of wood, which rots, or was sold to other mines, or scrapped when the mines closed, it has left little trace
a look down the valley was in order, more like a mountaneering expidition, and to think people lived up here, they must have been very hard.
One more thing worth showing is this monument to an air crew killed when there Wellington bomber crashed over the valley in 1943
google earth, this is a poor low resolution shot, you can't see any detail but you can see the valley
53°38'34.82"N 2°33'40.57"W
Last edited by a moderator: