Administrator
Staff member
OK, so after spending some serious time with 3rdPlanit and getting some one on one coaching (Those curved section of benchwork were a bit of a challenge to lay out) I've come up with a very rough interpretation of what I think you've drawn.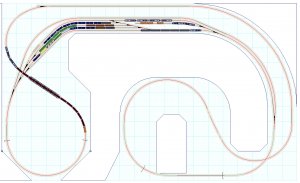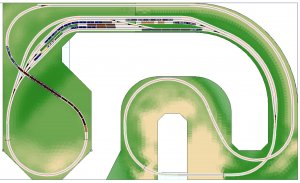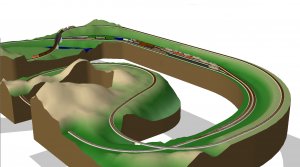 A few comments...
1) That lower right corner gets gnarly when you try and keep your 30" radius curve. I did it but it was tricky.
2) As it stands, this would be a very photogenic, and extremely boring layout. Run trains in circles and switch the yard. That's it.
3) That yard takes up a LOT of space. The left side is #6 turnouts, the right side is #4. I also managed to fit in a small engine/caboose area. You could even fit a small yard office between the tracks in the opening.
4) That long sweeping curve is both gorgeous and problematic. That double track on such a wide radius will look wonderful. Again, great for model photos. But it's an awful lot of space with absolutely nothing in it. What did you have in mind for there? When drawn to scale, it gets pretty long and narrow...