Hello,
After carefully building the heavy 2x4 benchwork for my 130-foot O-Scale 2-Rail Folded Dogbone layout and laying all that flex track and simulating the Mountain/Desert terrain where I live, I find that after 2 years, I'm the only one who appreciates it.
Others who have visited my Train Building complimented me on my achievement, but then left and went back into the main house for a more sociable visit.
My O-scale 2-Rail is the only layout of that scale among the over 30 members of our local Train club, all of whom run only HO, N, or Lionel 3-Rail equipment, so I have nobody who shares my modeling preference.
A few years ago, before I built my first layout, (which was HO), I built a 70-foot Slot Car layout with roadway sections designed for 2 cars in competition.
THIS WAS A LOT OF FUN
, and friends and relatives kept returning to race Sports Cars, Muscle Cars, or just casually drive the route in a VW minivan!
If I do take down the Railroad, I'll certainly build another Auto Sports Track!
Shown are my nephew and his son, about 4 years ago, in my 20' x 24' train building, which was an addition to the house.
Hal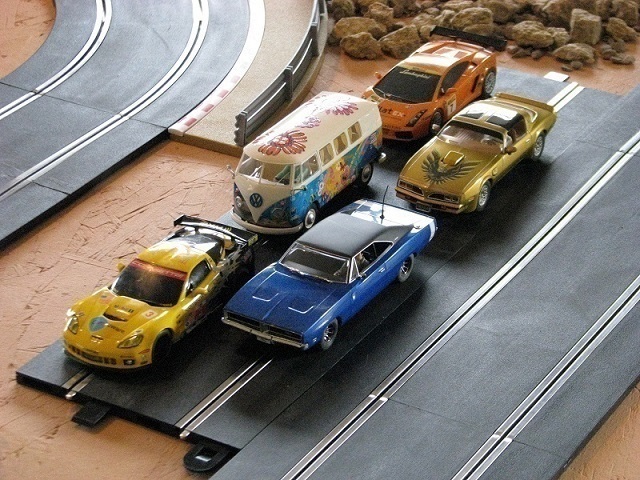 Last edited: