So last month I bought some mini light bulbs from this place called Jackson Electric Supply, I bought their 7219R red bulbs. And this is what they look like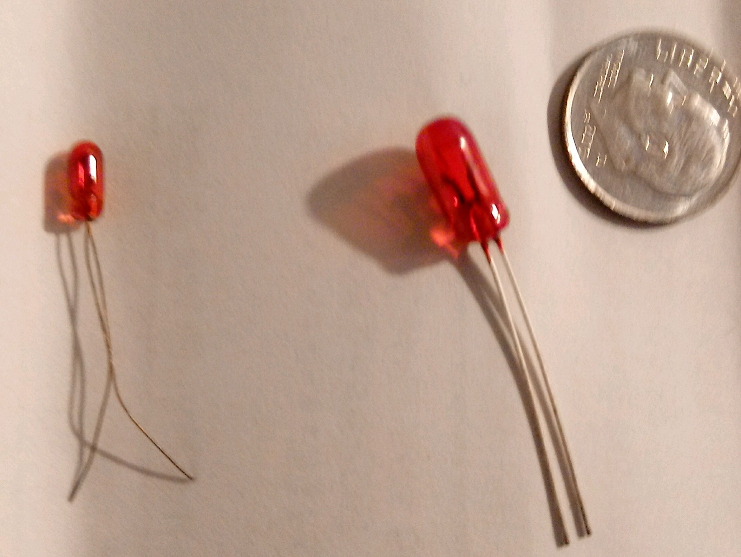 The 7219R is the small bulb on the left, the other one on the right is just a 2162R, just ignore that one!
https://www.jacksonelectricsupply.com/7219R-Red-Miniature-Bulb-Wire-Terminal-Base-p/7219r.htm
But do you see the bare wires on these bulbs, well, leads actually? This is where I need the advice. One, how do I insulate them and other bare wires, I mean what do/should I use to make these insulated? I was told that I cannot let these wires touch something or else they'd cause a short out and it already happened to one of my flasher units! This is what I was told by Circuitron "since those lamps have bare wire leads, you need to make sure they never touch each other or you will have a short that will take out the output transistor on the FL-2. That may be what happened."
Something else I want to know, if I want to expand these wires, basically add wires to these and make them stick, do I need to solder them? I ask because I never soldered anything before. Am wondering if I will need a soldering iron and what else I need. I'm very new to much of this!
If I cannot insulate the bare wire leads, I'll probably have to cut them shorter. Hopefully I WON'T need to but that's what I'm considering doing!
I asked someone at Jackson Electric Supply but the person I contacted told me this " I would check on a forum for model trains to get the best way to insulate the wires and make them longer. I know and understand the bulbs and how they function, but I am not versed in how to insulate or extend them." And so that's what I'm doing now, asking the model train forums about this.
As for wires, I need ultra thin wires but insulated wires and wires I can easily peel with blades, like a pair of scissors. Should I use 30 gauge or something a little higher? I want something thin but not too thin (a few days ago when trying to wire and light up crossing gates with a very thin wire the wire I used melted and there was smoke and the wire sticked. I know "sticked" is not a word but I'm using that to help you understand what I'm saying. I don't know if that was a 30 gauge wire I used or what but maybe that was too thin, but I need something more than 20 gauge, and wires that are discreet. Like I said I am planning to light up crossing gate arms so they can be lit along with the crossbuck signal lights.)
As for adding wires to the bulbs and making them flash alternately like the crossing signal lights, not sure this is a good idea but what I do is I take two of the 7219 bulbs, take one wire lead each and connect them to each other. Then I take three loose wires, put one wire on one isolated lead on each bulb and put the third wire on the jointed leads. The leads that are not jointed together get wired to the L and R terminals on the flasher unit to flash, while the jointed wire, the Common Ground wire, gets wired to the Out terminal to the lights can blink and flash alternately. I know I should just wire each terminal individually but I think I found a more efficient way to do so so that I don't have too many wires showing and running down the gate arm. But if you have better advice on that, please tell me.
As for the tip light on the gate that lights steadily (stays on,) I already know what to do about that, I wire that separately and wire that directly to the power source, not to the L and R terminals!
Let me show you exactly what I'm doing or trying to do using photos
Okay here are the 7219R bulbs on the gate, which I made myself. Since the leads are long I wrapped them around the gate arm to try to keep them in place as you can see. And as you can also see, they weren't wired yet!
Now I have the gate lights wired and I have them lighted and flashing like I want them to. The wires are not permanently connected to the bulbs, they're just wrapped around, but I plan to permanently wire them, which is why I ask if I need to solder them. I also need to know how to insulate them if I can.
Like I said, the flashing gate lights are jointly wired together, I took one lead on each two bulbs and connected them but left the remaining leads alone. Then I wired the two lone leads with one wire each and wired the jointed leads both to a third wire (if I have to I'll use four wires but I figured this would be more efficient if I could just use three wires!)
I'm also going to need longer wires for the gates because look at this:
Although the crossing set up looks how I want it to and the lights are functioning the way I want them to although the gate lights are on a different flasher unit than the signal lights, in other words the gate lights are not interconnected with the signal lights, but see how the wires are all over the place? This is not what a railroad crossing is supposed to look like and how can a train and crossing cars get through this??? The wires are too short and need to be longer so that I can bury them under the track and grade crossing. I also couldn't lower the gates, they wouldn't stay down and the wires kept getting undone, getting loose from the gate lights and from the flasher unit. I have an idea what to do, I need longer wires and they need to be so that they're not blocking the crossing way for neither trains nor automobiles, but I need to know exactly what wires to use. The wires again have to be discreet but easier to peel and they have to not burn and melt so easily!
And again, I need to know how to insulate the bare wire leads on the bulbs or if I should just cut them. Either way I still need to know how to add wires to them and if I should solder them or not.
Sorry this got too long, I'm not very good at expressing myself, but I need help with this and anything (hopefully kind please) helps!
Thanks for reading and looking!
Last edited: