There is also word that yet another locomotive has arrived a week ago. A "Cotton Belt" unit.....bought on a burn sale. GP-40 Cotton Belt SSW SP it is currently in the shop getting programed. Also on the horizon a new box car to pay homage to the boss's home town where he was born is on the way. Then there is a beast of a machine coming as well, One of the first SD90MACs 6,000 hp loco.....we already have one in our fleet and decided on another. We here at JR's UPRR are able to resolve the problems of the 6k units and have it purring like a kitten and performing well. This unit is coming soon.
Wyatt dragged out the UPT 7 & UPT 8 as they will be put in to service. We have had these for 20 years now (both are custom and done quite well). They have been run through and ready to perform. UPT 7 will get sandwiched in between 9234 & 9077 both GE Dash 8-40C. UPT 8 will be set between 6344 & 6366 both are GE C44CW (AC4400W).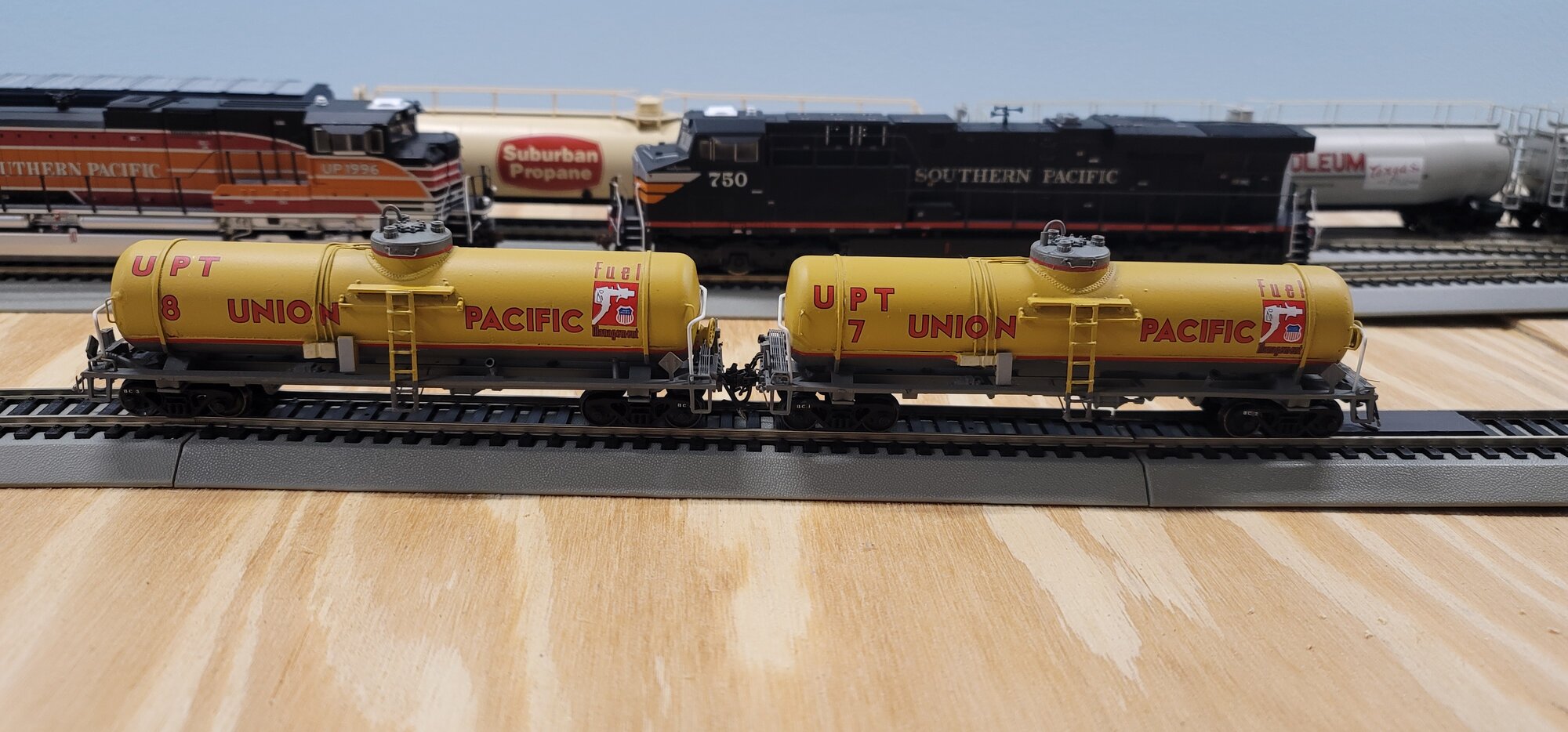 A little history: (from Don Strack website
https://utahrails.net/up/up-fuel-tenders.php
)
UPT 5 to UPT 8​
During 1995 to 1998, UP completed a series of tests and operations using four tenders for diesel fuel. There were four diesel fuel tenders.
October 4, 1996
"Omaha-Council Bluffs area employees are invited to view one of UP's new fuel tenders on Friday, October 4. The UPT-7 tender will be on display from 7 a.m. to dark on the intermodal yard track south of the Harriman Dispatching Center parking lot as part of the HDC Fuel Days celebration. The company now has four fuel tenders in service across the system. By carrying an additional supply of fuel, the tenders are reducing locomotive dwell time, extending the distance trains can travel and enabling the company to fuel more price competitively. The four UP tenders are numbered UPT-5 through UPT-8."
(Update Line, Union Pacific Communications Department, October 3, 1996)
UP had four tank cars converted to serve as diesel fuel tenders 1995. The cars were numbered as UPT 5 to UPT 8, numbered following the four LNG tenders (UPT 1 to UPT 4). The diesel fuel tender program was initiated in late 1995, placing a single fuel tender between two new General Electric C44ACs. The combination of a fuel tender connected between two locomotives was usually assigned to unit coal trains coming out of the Powder River Basin in Wyoming. The fuel tender program came to an end due to wear and tear on the fuel tenders themselves, since tank car frames are not designed to take the buffeting and differing longitudinal loads that locomotives are designed for. The tank cars used were standard tank cars, which are also not designed to take the high mileage of being coupled between locomotives (approximately 90,000 miles per year, about four times what a standard tank car would see). The program was in operation during from approximately July 1996 through May 1998 (date range supported by dated photos of fuel tenders in service). All of the fuel tenders were out of service by April 2000, and stored at Council Bluffs at UP's Fox Park passenger facility. They were still there as late as June 2002.
(part from Trainorders.com, January 26, 2006; See also: an article by Michael McGowen in "Union Pacific Modeler", Volume 3, pages 84-91)
The tenders were tested beginning in May 1996. They were converted from four Class O-70-1 tank cars from the 70000-70199 number series. The fuel tenders were numbered UPT 5 through UPT 8. The tank cars were originally built in the 1954-55 timeframe by American Car & Foundry. The cars were modified by Union Tank Car in Muscatine, Iowa. The cars were 51 feet long and had a capacity of 19,167 gallons.
("Fuel Tenders; UP's Answer To Better Delivery Times", The Streamliner [UPHS], Volume 13, Number 2, Spring 1999; article includes several photos and drawings)
UP assigned a total of six new GE C44CW (AC4400W) locomotives to their diesel fuel tender program. Their numbers were UP 6840-6845, built in October 1995. Several news reports also show four C40-8Ws, UP 9387-9390, built in February and March 1990, as being part of the program, but these were just planned and not actually converted.